This post is adapted from a lesson in my Instagram class, The Insta Retreat, where I teach strategies to grow your account and your audience, while remaining authentic to yourself. Click here to read more.
Think Like An Editor
Running a successful Instagram account is sort of like being the editor of your own mini digital magazine.
You need to know what your readers like, and what part you play in their world. It's your job to deliver a consistent type of content with a familiar, reliable voice behind everything, so it all fits together well.
It would be strange and confusing, for example, to buy a glossy, feminist publication like Marie Claire one month and find an angry, right-wing article from The Daily Mail inside. It would make you think twice about whether Marie Claire was really the magazine for you.
Some people hear this and immediately begin to think of all the things they want to cut out. It's super common for us to believe that the different facets of ourselves can't belong under one brand umbrella or one Instagram account, but in my experience, it's actually pretty rare for this to be true. The distinction between your painted work and your textile weavings might feel massive to you, but to an audience, it's all just one person doing interesting creative stuff. Remember, it's the things that make you uniquely you that makes an audience stick around.
As well as staying on-brand, I encourage you to think about your regular fixtures or topics for posts. Like the recurring features in our favourite magazines, these topics are the things you expect to cover regularly, so that your viewers can come to expect them. As we'll talk about in an upcoming lesson, creating magnetic value in at least one of these designated topics will pour rocket fuel on your growth and engagement rate, with consistency. But for now, let's just work out what those regular fixtures are going to be.
Nothing Too Rigid
Now, this isn't to say we're going to write a rulebook for what you're allowed and not permitted to post. Just because you might decide your categories are, say family, work, and food does not mean you can never deviate from these.
If your Instagram feed is like a micro-magazine for your followers, then the things you include (and don't include) will determine the readership, your niche and the entire tone. Creating regular fixtures gives you a framework to work within when you're not sure what to post, or when creativity abandons you for a while.
Some commonly used categories you might consider: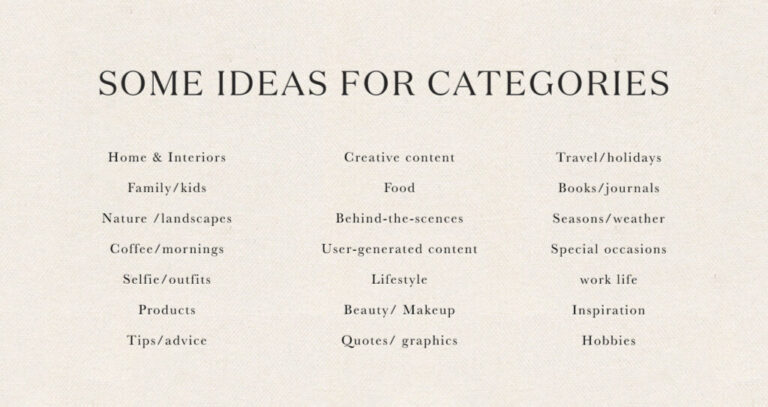 Notice that 'products' is only one category here. That means if you have a shop or making business, you can – and arguably should – absolutely have other categories in the mix too. If you sell baby clothes, for example, your 'magazine' might also feature your own family life, your interiors or your working life, or your morning coffee routine.
If you have a service-based business that isn't obviously 'photographable', choose topics that appeal to your target clients and allow them to get to know you and your work a little better. So for example, if you're a Coach for women, perhaps you'll designate one category to 'teaching' style posts, where you share quotes or tips that relate to the skills that you coach around/ But you might also want to show what books you're reading, your love of stationery and journaling, your wholesome lunches, or how you de-stress in the evenings.
Much like with the keywords we chose for Visual Style in Week 1, the possibilities are endless and your choices should and will be entirely individual to you. Usually, we can identify many of our topics just by looking back through our feed and seeing what sort of images we are most often drawn to post, and what resonates most for us.
I recommend having around 3-6 focus subjects that you keep in regular rotation. Then, whenever you're not sure what to photograph, or feel low on ideas, you have your list to fall back on, and know exactly where to start.
In Practice
So, to use my own account as an example, my topics are:
Home & Interiors – because these are easy for me, and something I love
Seasonal landscapes/Yorkshire-porn. Often that means my window view.
Family – Me, my daughter, as she's a big part of my story, and my pets
Moments with cups of tea – because this is what I love, and when I do most of my best thinking time.
Products – because I love beautiful stuff, and to keep room for sponsorship opportunities
What I mentally refer to as 'concept shots', because they're the most fun, get good reach for me and are challenging to create.
As you can see, they don't really fit the categories on the list above, but they work for me to jog my memory for what I want to be creating. They also often overlap, with a shot being several categories at once, which is extra fun!
From time to time my Instagram page will get a little off track, when my focus has been elsewhere. That's fine, and completely normal. Having my categories nailed means I can always reset quickly and easily, and know what to post next.
Looking at these recent six rows, I can identify the categories as follows: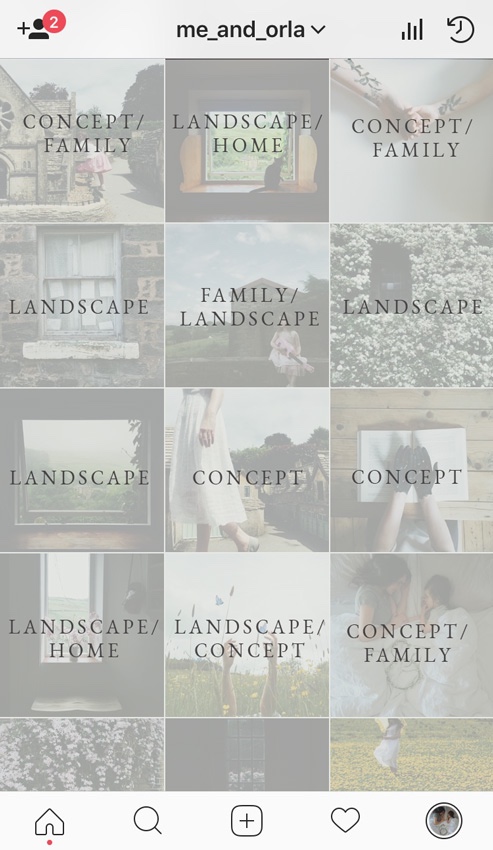 What this tells me is exactly in line with how it has felt: off-balance, and without enough depth. There's an awful lot of landscape and concept in there, but absolutely none of the 'products' or 'moments with cups of tea' which ground my sharing in my real life.
Immediately, I know what to shoot more of to get things back on track.
Once you have a list of your own categories, you can check-in like this with your own gallery at any point.
Don't Panic
If this is all starting to feel like a lot to remember, don't panic! Once you've done this work and made some category decisions, you'll probably find you begin use them intuitively, without any real effort required.
Just as the editors of Marie Claire or The Guardian know if something fits for their brand or not right away, so too do we come to know what's right for us – and what isn't – just by feel.

Begin to identify some repeat topics for your account, and add these as headings to the different sections on the 'Think Like an Editor' worksheet, here. These might be things you frequently post, things you think your typical follower would enjoy, or areas of your life you'd like to show more. Aim for around 3-6.
Now, under each topic heading, brainstorm 4 or 5 photographs or posts you could make. That's a month's worth of content you've just generated in less than 5 minutes!
Want more like this? This lesson is just a tiny fragment – less than 2% of the total Insta Retreat class. If you'd like to dig deeper and get more insights like these, the Autumn intake of The Insta Retreat is open right now for enrollment.
I'd love to have you join us and take this work to the next level and really apply it to your work 💙.
Click here to grab your spot before Enrollment closes!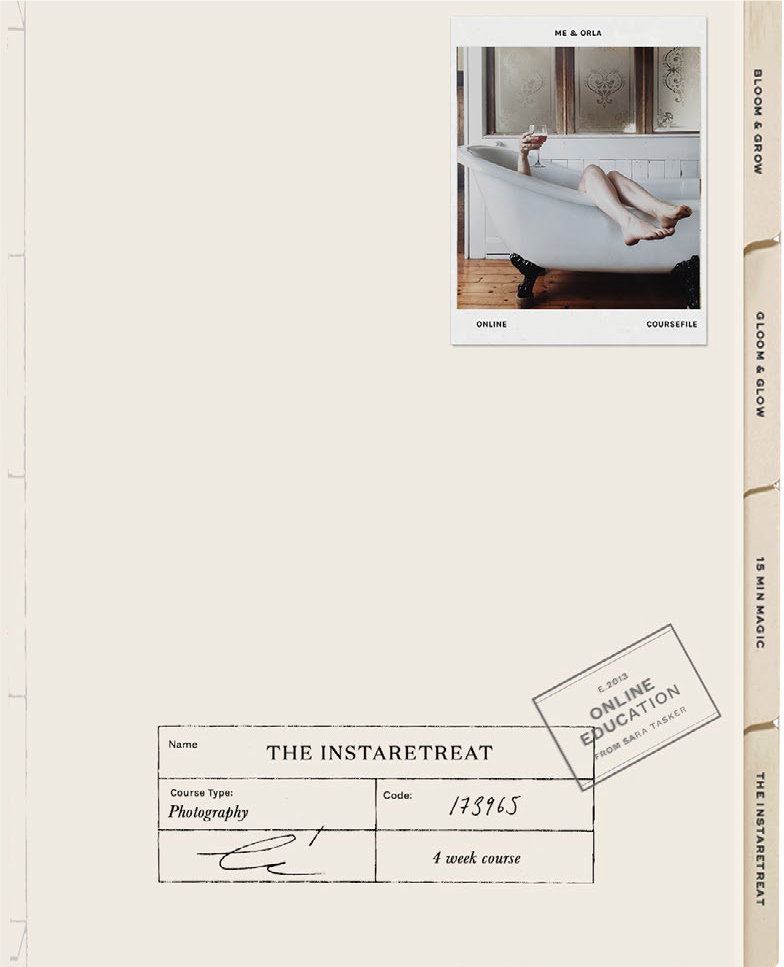 Every month, I gather up a selection of winning hashtags and send them straight to your inbox, for free.
Sign up to receive my newsletters every month.