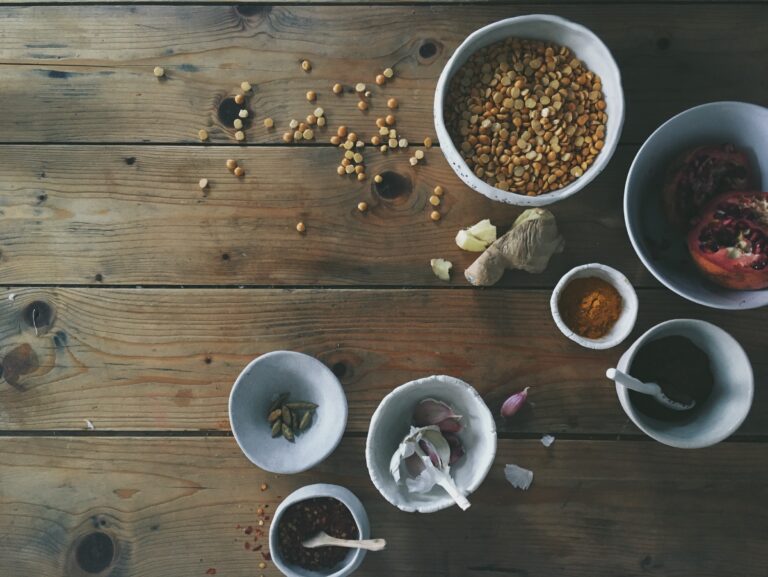 Thick, spicy and full of warmth, Tarka Dahl has been my order of choice from the Indian takeaway for a long time, but it never occurred to me to make at home. I think I imagined it would be faffy, as many Indian dishes are – requiring complex curry pastes and ingredients we didn't already own.
So I was pretty excited to read this recipe and learn that it is, in fact, a simple pantry one-pot wonder. Well, two, as you'll also need a frying pan, but it does require very little effort, which is something I really appreciate in any meal.
If I make it at the weekend I use yellow split peas or chick peas and let it cook slowly in the AGA. On weekdays, when time is more limited, I switch in red lentils instead, and it's ready within the hour. There's surprisingly little difference in the finished result, too, though the water content can need adjustment.
My first attempts were a little disappointing – the flavour was always confusingly bland and empty, despite the colourful collection of spices mixed through.
After trialling a few different recipes, R & I finally concluded that we are just fundamentally hooked on intense flavours, and while that's probably something we should address, instead I simply upped the spice infusion to make this super flavourful. Sorry not sorry.
Also, apologies to anyone with Indian heritage for undoubtably ruining this meal with subtle anglicisations. I'm very open to corrections! ☺️
TARKA DAHL – Serves 3-4
Ingredients:
250g/9oz chana dal (yellow dried split peas), rinsed until the water runs clear
3 tbsp vegetable oil
1 tbsp cumin seeds
2 small onions, sliced
4 whole green chillies, pricked with a knife
2 bay leaves
1 chicken or vegetable stock cube
4cm piece fresh ginger, peeled and cut into thin strips
6 garlic cloves, peeled and left whole
3 tomatoes, chopped (or, a little of something sweet & something acidic, e.g. honey & vinegar)
1½ tsp ground turmeric
1½ tsp garam masala
1½ tsp ground coriander
a handful of fresh chopped coriander
Method:
Boil the chana in 900ml/1¾ pints of the water in a large, lidded pan, then stir in the bay leaves, tomatoes and stock. Skim off any froth that forms on the surface. Cover the pan with a lid and reduce the heat to a simmer. Cook for around 35-45 minutes, until lentils are soft and beginning to break down. Add more water along the way if necessary.
Meanwhile, heat the oil in a frying pan over a medium heat. Add the cumin seeds, onion, chillies & ginger and fry for 4-5 minutes, or until golden-brown.
Add the garlic, remaining spices and 100ml/3½fl oz of water to the pan and stir. Simmer for 15-20 minutes.
Check the consistency of the lentils, and add more water if necessary to produce a loose, slightly runny texture. Mix in the onion mixture, or serve the lentils plain in warm bowls and allow people to stir in their own tarka to taste.
Because the spice and onions are added at the very end, it's easy to set aside some of the plain dahl for Orla, so she can eat the same as us. Life is absolutely too short to be cooking different food for my toddler every night.
What's your favourite comfort food? Got any tips to help me up my dahl game? I'm all ears
Every month, I gather up a selection of winning hashtags and send them straight to your inbox, for free.
Sign up to receive my newsletters every month.