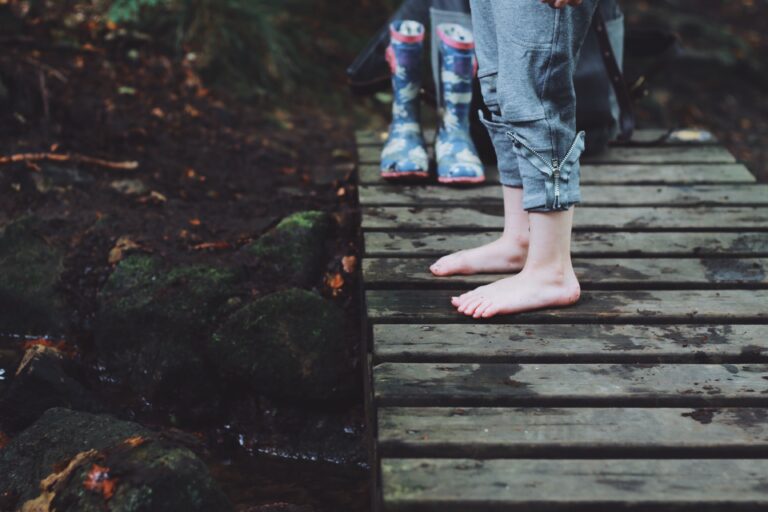 A dried thistle flower. She hands it to me, sniffling, drying her eyes from some head-bang or dog lick, and tells me in a small voice, 'it is a hedgehog'.
And it is! It has two eyes and a nose, and my heart turns to mush at the prickly little treasure she has brought back from her day.
Six weeks ago, Orla started attending a Steiner Kindergarten.
She comes home smelling faintly of wood smoke and trees, mud smears on her cheeks and filth down her fingernails. She sings songs in the car about how excited she is to be going; is sad on the weekends and Mondays that she cant.
And in truth, I would send her on those days, were it an option – this is the joyful childhood I want for her but never quite have the energy for. Scrambling through woodland, whole days on the moors. Seasonal rhymes and nature crafts; playing outside whatever the weather. And she loves it!
I knew the first day we visited and saw the patch of earth for digging in; the mud-and-rainwater kitchen; the little fishing rods made of twigs and wool. These are the things she has always been drawn to – digging for the fun of digging, mixing daisies into water as soon as she could sit. This is pre-school as Orla would design it.
I'd built myself up for a tricky transition – Orla's reserved in new situations, inclined to watch and stay glued to my side – and so I prepared for lot of gradual settling before she would stay. As it happened, she was ready after two days. By the end of her second week we upped her to full-time because she loved it so very much.
Even the building is a bit fairytale – an old Sunday school snuggled down in one of my favourite Calderdale valleys. They light a candle every lunch time, eat the same meals on the same days to give the children a sense of rhythm through the week. (If I still worked in special schools I'd totally be suggesting this – it makes so much sense to help orient children in their week this way, when the names of the days are meaningless).
& instead of that awful pressure to have her sat in class in time for registration, school uniform cleaned and ironed, we arrive breezily around the 9 o'clock mark. Nobody is stressed or judgemental. Nobody cares whether her socks match or not.
As it is, the kids are all in full-body waterproofs half the time anyway, a rainbow of jumpers and leggings and wellies beneath.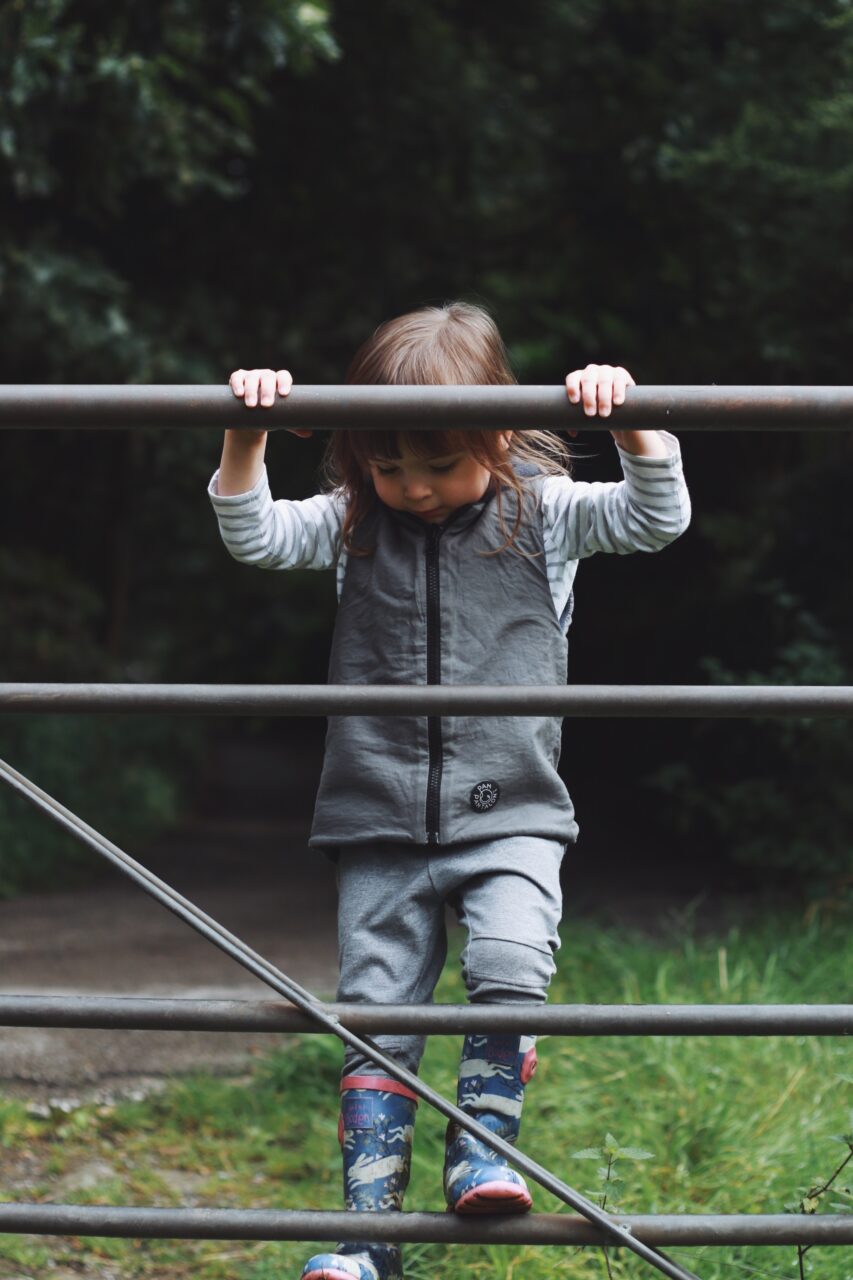 I'm wary of making anything sound perfect, but this choice was the best possible one we could have made for our little family. She can stay in Kindergarten until she is six – playing and socialising, growing confident and strong. No pressure to read or write until her brain is developmentally ready. No shouting (the class teacher sings instructions that need to be said loudly enough for all the kids to hear, which I think is pretty genius). No SATS.
I should mention that the internet is awash with Steiner conspiracy theories citing some admittedly more unusual Anthroposophical beliefs – 'black crayons are banned', 'dance is a way to communicate with the spirit world'. Steiner education was devised over a hundred years ago by a a Philosopher called Rudolph Steiner, and of course, quoting his texts directly can make the system sound outlandish or outdated.
For example while 100 years ago Rudolf Steiner wrote that "In painting, the line is a lie; the line is always part of the memory of life before birth. If we are to paint with a consciousness that extends across into the world of spirit, we must paint what comes out of the colour.", modern Steiner teachers explain that encouraging children away from drawing outlines in black, and instead letting them play with colour and shape allows them to be more creative. Anyone who's ever tried to do as a toddler does and freely paint and make shapes without deliberate consciousness knows how impossible it is to get this back once it's gone.
From an agnostic stand point, it's hard to see why this is any more 'cultish' than mainstream practices like singing songs to God in daily assemblies, or all-Halal school dinner menus. It seems the most vociferous detractors are really just offended by the otherness of the system – as equally baffled by the lack of punishment (children are given a 'time in' instead of a time out) & phonics as they are any notion of alternative beliefs.
& so while I personally might not think that electronic entertainment is an evil influence, or that being taught academic subjects too young damages a child's spirit, I can't argue with the resulting conclusions. Too much TV does delay development – I've worked with those kids across Manchester for a decade. Learning reading and writing later is backed up by tons of research and evidence.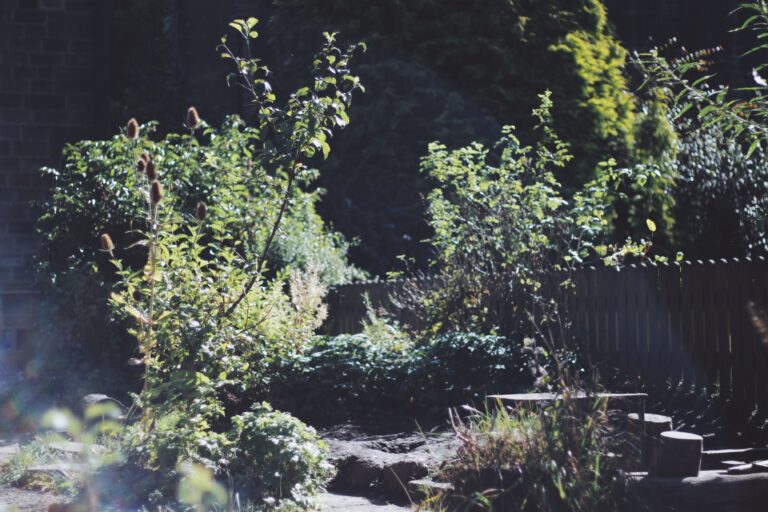 So, we're happy. More than happy – thrilled, in fact – and so grateful for the lovely school and the supportive community of parents and teachers who have welcomed us in.
If you want to know a bit more, my friend Hannah wrote a great post about sending her daughter Frankie to the local Steiner school in Kent. You can also read more about the Steiner education system here.
What are your thoughts on Walforf Steiner and alternative education systems? Respectful questions & opinions welcome!
Every month, I gather up a selection of winning hashtags and send them straight to your inbox, for free.
Sign up to receive my newsletters every month.