If you've been subscribed to my newsletters for a while, you'll know this isn't the first time I've talked about the ongoing evolution of hashtags, and their usefulness, on Instagram.
Not so long ago they were a primary driver of growth and discovery for most creators in the app. Now, most users report at best, dramatic inconsistency in how useful they are. If you have a Business or Creator Account, you'll be able to see the stats for yourself: some posts might register 0 views or engagement via hashtags, whereas the next may have hundreds or even thousands of extra eyes on it thanks to those little ##s.
What's going on? And are hashtags worth the time it takes to type (or, for the savvy, copy-and-paste them) any more?
How It Used To Work
To understand this shift, we have to consider how much Instagram has changed in recent years.
Not so long ago, the best way for any of us to find new content that we wanted to see was to visit the hashtag search.
Wanted to see posts about planners, or vegan recipes, or kittens, or interior DIY? You'd type it in the top, and Instagram would take you to a hashtag page devoted to your topic of choice.
Not only this, but browsing hashtags was a fun and accessible way to use the app. Lifestyle hashtags, eg "#LiveFolk", would provide a fairly well-curated page full of posts you might like. This kind of activity was a regular part of people's Instagram routine. It was one of the main ways to discover more content and creators you might like.
How It Works Now
Fast forward to the present day.
Instagram is now throwing content at users in a much more consistent and engaging way. We no longer have to go and actively search for more things to look at because we're struggling to look at everything that's waiting for us as it is! Reels, Stories, Lives, Rooms, Collections… viewing content on Instagram has become a more passive and much less effortful experience.
Meanwhile, we've seen keyword search introduced – meaning the words in your captions and alt description are now indexed, much like the contents of a blog post might be on google for SEO. Now we can find posts covering our favourite topics without needing to delve into the hashtags – we can simply search "vegan recipes" and see all the results, regardless of whether hashtags were applied to each post. In fact, we see these posts first – keyword-indexed posts are shown under the "Top" tab, whereas "Tags" is the third option along.
With all this in mind, it's little wonder hashtag reach and engagement has plummeted. As humans, we're all path-of-least resistance creatures. It's incredibly easy for these apps to reshape our browsing habits and behaviours with subtle interface tweaks like these.
But then, what about those sudden occasional spikes, when they help a post perform incredibly well?
Why Hashtags Bring Engagement Spikes
My sneaking, research-backed suspicion is that this is the result of hashtags being followed and suggested.
Following hashtags has been possible for a while now, populating your home feed with occasional, well-performing posts tagged with the relevant # – whether you follow that user or not.
The criteria Instagram uses to choose which posts appear in this way is, of course, shrouded in secrecy, but it's a safe bet it's the exact same metrics that determine whether a post does well in all the other algorithms across the app.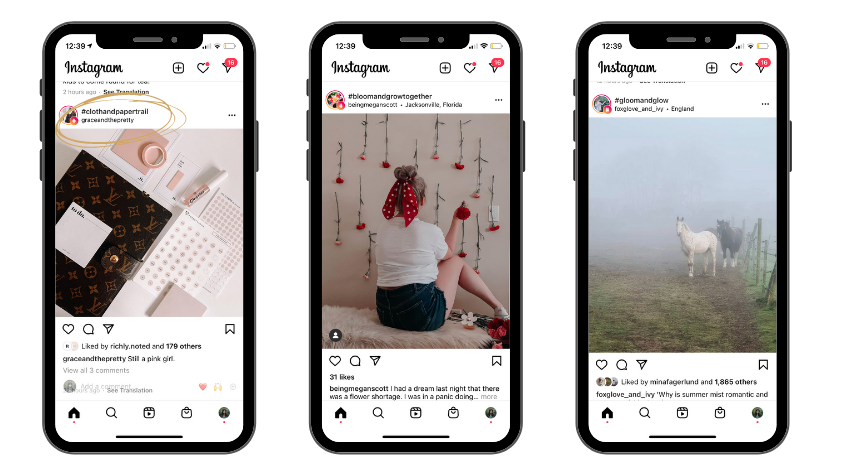 There's also the suggested feature, based on hashtag indexing. You might come across this while scrolling your home feed, and somewhere in the mix, you'll see a suggested post, from an account you don't follow, with a message like, "you liked 3 posts this week tagged #bloomandwild, do you want to follow this hashtag?"
Any post selected to appear in this way can expect to garner significantly more likes, and views/interactions from people who don't necessarily follow you already. The spikes, then, are most often a sign that your post has made it this feature – and a good indicator that you've created some content the algorithms smile upon.
If you have the budget and inclination, these can often be good posts to "boost" using Instagram's in-built paid ad feature, (available only for Creator and Business accounts), but often it's enough to simply figure out why that post performed particularly well and make that a part of your ongoing formula for visibility and success.
TLDR :
⬇️ Hashtag reach is down as people no longer need to use them as much for discovering new content
🔎 Keyword search means hashtags are no longer the only way for people to find content on a certain topic or theme.
📈 Reach & engagement from hashtags is now less predictable, but can still bring huge spikes of new people when it works.
📱 Most of this is due to hashtags being followed or suggested, where selected high-performing posts appear in people's home feeds.
So, is it still worth using hashtags?
In my opinion, yes.
While reach may no longer be the easy win with them it used to be, hashtags are still a free, quick and valuable tool for tapping into different areas of community and creativity within Instagram. If you're putting time and thought into your content, then it's worth gambling on the few seconds it takes to drop in the relevant hashtags and hope to make the cut for a feature in folks' home feed – and if you don't think your content is good enough to meet this grade, it's worth questioning why you're posting it at all.
Finally, we still know precious little about how Instagram's keyword search functions, and which areas it's scraping its data and info from. It's entirely possible that hashtags are important indicators in boosting a posts' visibility within keyword searches, as we know most users are not yet in the habit of adding alt-text to images, and/or explicitly describing their post in its most searchable terms in their caption yet. Do all three, and you're maximising your chances of visibility across the Instagram-search board.
If you like analysis like this, and want support in maximising your potential on Instagram with organic growth, my bestselling class, The Insta Retreat, might be just the place for you. We're enrolling again next week, for a fresh new-look updated class, on a shiny new platform too! Click here to get all the details and see if it's right for you.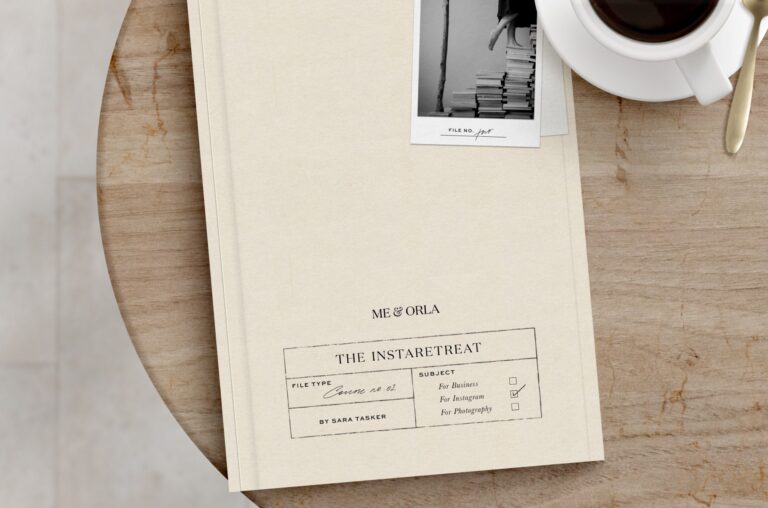 How do you use hashtags in 2021? What does your hashtag data tell you is working, or not?
Every month, I gather up a selection of winning hashtags and send them straight to your inbox, for free.
Sign up to receive my newsletters every month.