I'm putting 'beauty' in inverted commas because I'm pretty sure nobody uses these things to be beautiful. I don't get up every morning and spend twenty minutes painting my face with oh-so-subtle cosmetics because I think I'm some sort of stunner.
Women wear makeup to try and look normal, because even if we know that women don't look like the faces in magazines, we know the rest of the world still expects us to.
We're just trying not to alarm or incite insults with the state of our appearance. So here are my latest favourite products for that.
Regardless of how much I hate myself for buying into it.
my recent "beauty" favourite discoveries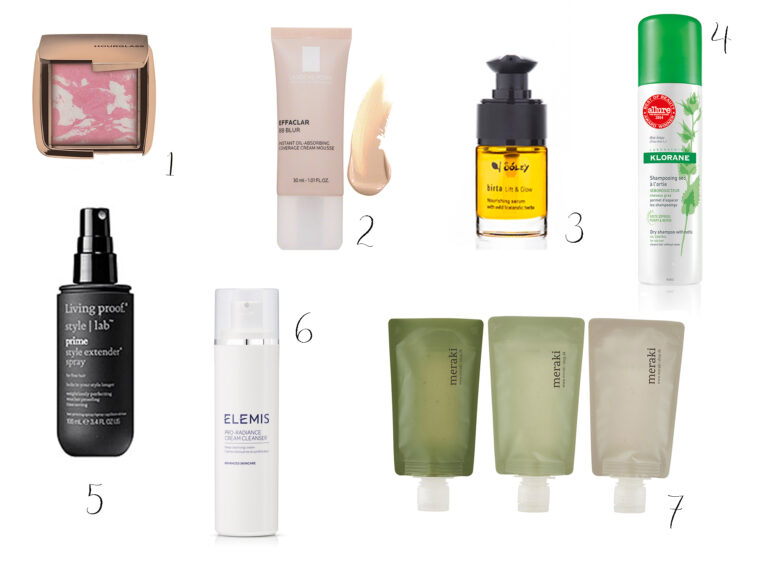 1. Hourglass ambient light blush, in ethereal glow, £28. This super pretty blush sort of matches the colour of my natural flush, and has a lovely lit-from-within sort of look. Or maybe I just like the packaging. It's so hard to tell sometimes!
2. La Roche Posay BB Blur, £16.49 (but currently £12.35 at the link). WE NEED TO TALK ABOUT THIS BB CREAM. This discovery is basically my whole reason for writing this post. It does some sort of witchcraft that means it blurs imperfections, covers blemishes and basically gives the illusion of the glowy skin that I woke up with in my 20s, in 10 seconds flat. I smear it on with my fingertips, or if I'm feeling fancy with a beauty blender and immediately feel about 60% better about life. Added bonus: it's oil absorbing and stays put for actually ages.
3. Lift & Glow serum, Soley Organics,€ 54. I discovered this range at a small boutique in Manchester, and they had me at 'wild icelandic herbs'. While I'm not sure there's much lifting or glowing going on with my skin so far, this smells divine and soaks in like a dream at night.
4. Klorane seboregulating dry shampoo, £8. Increasingly I was finding that budget Batiste just wasn't cutting it any more. This alternative by Klorane is non-powdery, leaves no white residue and doesn't feel gross and claggy when I run my fingers through. It's £8 at Boots – don't pay more elsewhere!
5. Living proof Style Extender hair primer, £21. This brilliant product coat and primes your hair, helping it to repel dirt and oil and therefore need washing less frequently! I have fine hair, so the spray version is my preference – spritzed in my fringe it helps stop that dreaded stringy look that I've battled for years!
6. Elemis Pro Radiance Cream Cleanser, £30 I first tried this in a Boden press day goody bag, and was hooked. The full size lasts for months, and leave my skin feeling both deeply cleansed and super soft and moisturised.
7. Travel set, Meraki, £3.10. Because I go to London a lot these days, and I'm too small and feeble to carry all this stuff in my handbag.
8. Kerastase balancing shampoo, £18. I recently stopped taking the contraceptive pill and my hair has become Verucca-Salt levels of demanding. Even washing it daily wasn't enough to keep the oiliness at bay until I tried this shampoo from Kerastase. It leaves my hair with a literally squeaky clean finish, and buys me a ticket to every-other-day washes again.
Tried anything you would recommend lately?
Every month, I gather up a selection of winning hashtags and send them straight to your inbox, for free.
Sign up to receive my newsletters every month.