It's easy to use Instagram Stories as a dumping ground for the content we don't like enough to put on our galleries. And it's great for that – don't get me wrong – but it's definitely under utilising a tool.
With it's own fledgeling algorithm, Stories gives you a second chance to reach your followers feeds. If you're in a Stories rut and not sure what to share, here are 30 ideas to give it a fresh take and to boost your Instagram profile.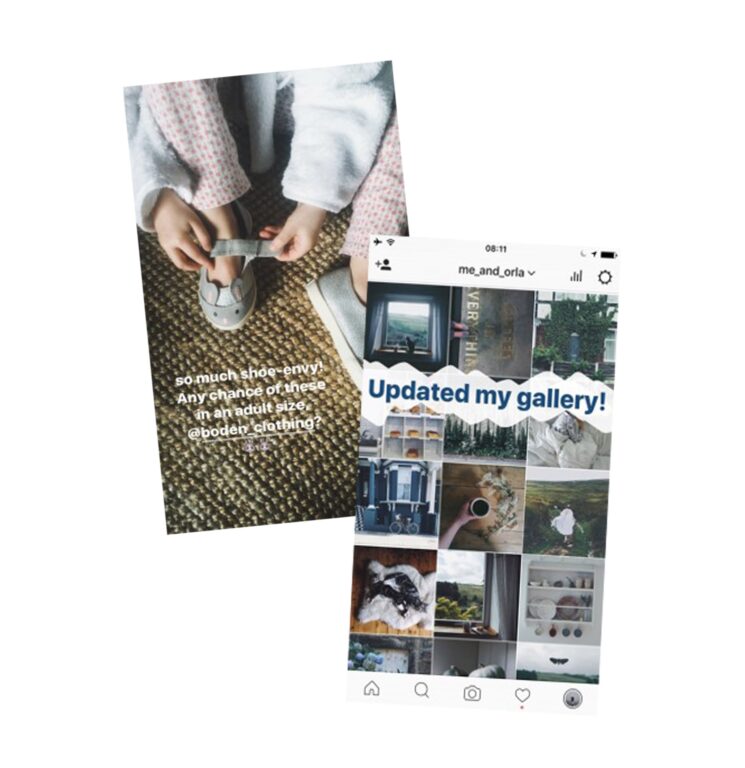 30 fresh ideas for instagram stories
Live broadcast yourself making a product, craft or meal
Tell people when you've updated your main gallery, in case they haven't seen it
Ask what people would like to see more of! (Prepare for a lot of DMs in response…)
Share the ugly reality behind your lovely Instagram photo
Make a mini video thanking someone who's helped you or inspired you recently. Remember to tag them so they see it too!
Live broadcast a snippet of a conference or event you're attending
Screenshot and share a social media update from another platform where you're awesome, and invite people to come and follow you there.
If you have a shop, show yourself packaging up orders to send out (social proof encourages more people to buy)
Take your followers on a tour of your neighbourhood with a series of short Stories
Tease some upcoming content – maybe a blog post, photoshoot or shop update.
Post a 'Follow Friday' type shoutout, without cluttering up your main feed.
Draw a picture with the pen tools! Taking a photo of a plain wall or background gives you a blank canvas to doodle on.
Drip feed content. What small bites of content could you share regularly? Motivational words, favourite quotes, a tip of the day… anything that gets people coming back to your Stories to see more is a winner!
Quick tips. Any tip you can fit into a picture or video is a great, high value Story to share.
Host a flash giveaway, where people DM you to enter, or share a discount code just for your Stories viewers. People will keep following your Stories for future chances.
Do a live Q&A and ask people to comment with their questions.
Try out new content. Not sure if a picture is good enough for your main feed? Try it in Stories, and see what sort of response it gets. If you receive a ton of DMs in response, it's usually a good indication that it resonates with your audience.
Share what you're reading/watching/what lipstick you're wearing/what coffee you're drinking, and give a short review.
Share good news. Instagram is an incredibly positive and supportive community, and people love to see other people's achievements. Whether it's winning a bargain dress on eBay or passing your driving test, sharing good news is always a great way to make people smile and help them feel closer to you.
Tell a joke. Put the punchline in the second clip to get guaranteed double views!
Live stream your kid's bedtime story for anyone too tired to read their own.
Create visual content using Adobe Spark or a similar app.
Share rejected content from your camera roll, or anything that doesn't fit in your main gallery
Share a snippet from a video you've posted to YouTube or Vimeo
Share outtakes from a video you've filmed
Tell people what you do. People won't necessarily remember your full story just because they follow you. Make Stories content that tells and shows them, regularly.
Have a rant about something that you're passionate about – it's likely your followers will feel passionate too!
Bring your audience along. Going somewhere exciting/unusual? Share a series of clips throughout the day.
Reinforce your main content. Whatever your mainstay content is, share informal everyday versions of this. So for me, my main gallery is about the little moments of magic – so I share my kettle boiling, a rainbow on the moors, the lovely handwriting on a letter that's just been delivered.
Specialise. Accounts that only do one thing gain great popularity, super fast. Consider doing this with your Stories instead of your main feed. The trick is to find something that's easy to regularly create, and is interesting enough to keep people coming back. It can be super simple though – your dog in hats, say, or what you eat for breakfast each day. If you share that and only that, you're likely to catch people's attention.
Adapted from a list in my signature course, The Insta Retreat.
Liked this? Then you'll probably love…
Every month, I gather up a selection of winning hashtags and send them straight to your inbox, for free.
Sign up to receive my newsletters every month.