It's a big day for me today. After months of work and years of planning, my signature e-course, The Insta Retreat – a six week course for creatives is opening its doors! Yippee!
Because I spend a lot of time arguing with my inner critic ('but instagram courses already exist!' / "YES but mine will say all the things the rest deliberately leave out!"), I have a big mental list of reasons why this was the right thing for me to do. I thought I'd share it, in case your inner critic is the noisy sort too, or for anyone wondering 'should I create an e-course too?'.
I have a lot to say. You might have noticed this if you read my Instagram blog posts – I have a whole head full of hacks, tips, logic and processes that I know aren't being shared anywhere else. I read what other people are saying; I've seen other people's courses. Nobody is sharing this stuff, so I feel like I should!
I was repeating myself a lot. In sessions with clients I began to find myself covering the same ground again and again, regardless of their industry or the purpose of their account. It made me realise that pretty much everyone would benefit from having this information, and learning how to apply it.
I don't have enough time. My mentoring programme is really over-subscribed which is great for me, but rubbish for the people who need help. I hate telling people I can't help them – especially when I know exactly what they need to do!

You're not alone.

Feeling helpless or miserable about your Instagram; left behind or afraid. Feeling like this could really be for you if you could just figure out how it all works. Feeling overwhelmed by all the shoulds and coulds of it all. I've been there, my mentoring clients have been there, and I wanted to find a way to bring us all together to share.

I want financial freedom. While sponsored content opportunities can be a lot of fun & a great source of income, they are essentially other brands selling through me. It makes far more sense to me for me to sell my own things because not only do I get to reap the benefits, but I can create things that I know you'll really love and use.

Instagram is for everyone

– not just skinny blonde girls in bikinis, not just the under 30s, not just people with a heap of flowers on their table. I fell in love with Instagram because of the huge variety of people and content and am passionate about bringing other people into that world.

I'd already planned it all out

nearly two years ago, when the thought first came to me. I had a whole wall full of post-its, and then I lost my nerve, realised that while my theory knowledge was awesome, my understanding of what people were struggling with was not. I needed to mentor and lecture and teach in order to get a better understanding of what to include in order to create a course that would solve the problems we're actually experiencing.

I finally feel ready.

I know I have the content, I know I understand the problem, and I know how to help people get results. I'm still scared and flailing and slightly baffled by some of the e-learning software, but I'm ready to put my name to this and share with you the kickass, game-changing Instagram course I've been dreaming about. And it feels brilliant! ?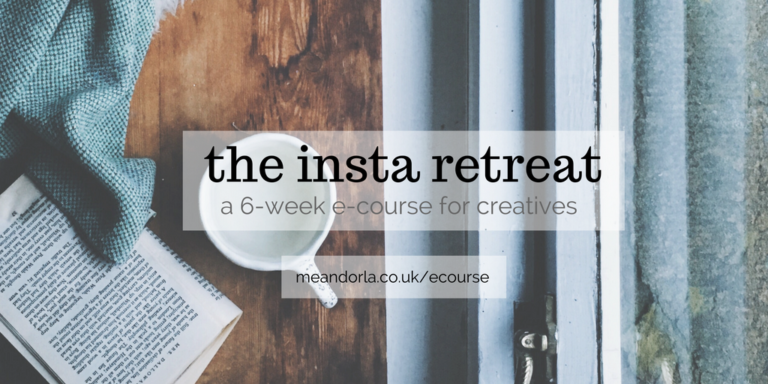 You can read more about my course and sign up for the first class right here on our custom-built platformSign-ups will be open for just one week, and space is limited, so if you're thinking about joining in then head over now to grab your slot!
& if you read this blog, if you like my Instagram posts or random Twitter posts, please know I love you. You make all of this possible for me and I can't say thank you enough x
Every month, I gather up a selection of winning hashtags and send them straight to your inbox, for free.
Sign up to receive my newsletters every month.