Setting up this photo, digging out the old remnants of Orla's baby days, I got hit by some forgotten feelings from those early newborn days – particularly, of being lost in a sea of new-baby parerphanalia.
I found newborn ownership (that's the right word, yes?) to be an uncomfortable time. Overnight, I was given an entirely new identity, and despite all the times I'd previously wished to be someone else, the reality of it was eerie and strange. The same but not the same; uncanny valley.
Having a baby meant a sudden shift in all the things I held as touchstones for my sense of self – my job, hobbies, appearance; the places we go, the things that I used in my daily life. I remember looking around the bathroom and remarking to Rory, I know it still looks the same but it's all totally unfamiliar now. & I wasn't even on any good drugs!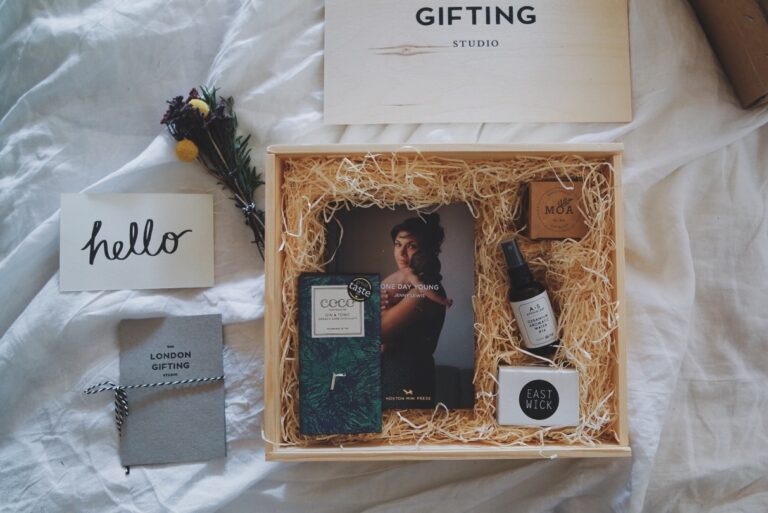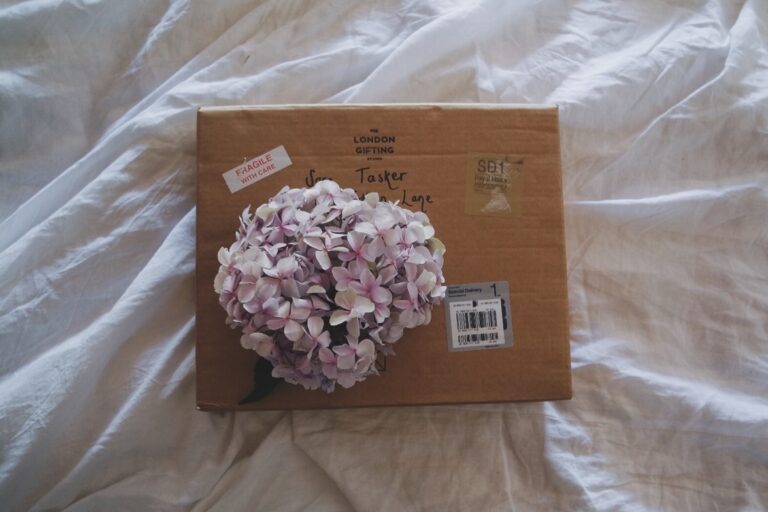 I sometimes think what is so appealing about the aesthetically lovely stuff is how it sort of grounds us in the present. Holding something I love makes me feel like I know where my edges are, and more connected to whatever I am doing. (Or, that's what I tell Rory when I want to shop, anyway…)
When Orla came, so did a whole lot of different stuff. Pink stuff, Disney stuff, gifts from colleagues & friends & distant family. Tubes of cream, washable white things, jingly plastic toys. If my pre-baby days were made of coffee, roses, natural wood & white sheets, my baby days were a tangle of cold tea, baby-wipe smell, lanolin & shame. The things I touched and smelt and felt were all new and unfamiliar. Nothing felt like it was mine – not even Orla, half the time.
So a gift box for new mums that does feel like me is a lovely thing to hold. Spreading all that old baby paraphernalia out on the bed for the photo, I felt such gladness that we'd found our way back to a sense of normal. And very lucky, to be someone who gets to have gin and chocolate and nice scented candles as the norm.

What's in the box:
Gin & Tonic organic dark chocolate. Contains no actual gin, but tastes the part thanks to Juniper oil instead. Because if you're breast feeding and/or co-sleeping, the parenting police will come and beat you with sticks if you so much as sniff an empty bottle of wine, dontyouknow.
One Day Young, by Jenny Lewis, had me in tears. How silly is that? Two-and-a-half years on, I've just flicked through a book of quotes from mums of newborns and felt suddenly a little less alone. They all still have proper bumps, and the babies still look like frogs, and I could sit here and sob over every page.
The Green Balm by Moa, aka magic cream. A bit like Elizabeth Arden's 8 hour cream but as a balm, and made out of lovely natural ingredients, they recommend it for everything from insect bites, coldsores, eczema and dry skin to removing mascara and as a face oil! I had so many random skin issues appear after giving birth, and this would have been a godsend. As it was I applied lanolin to everything and existed as a sticky, oily mess for a few weeks instead.
Eastwick scented Candle – did you know that expectant mothers aren't allowed to use essential oils? No oils, no wine, so steak, no cheese, no fun. This lovely candle packs a real punch as soon as you open the box – definitely enough to counteract the smell of baby wipes and Milton.
Geranium aromatic water – smells of summer in the south of france, comes in a little brown glass bottle. Distilled in Cyprus to capture the sun, and said to have hormone balancing properties. Lovely luxury face care stuff. Nothing to do with the baby; just yours. Just right.
The London Gifting Studio is giving away one brand new, not-even-available-yet Mumma Box to a lucky reader or Instagram follower, worldwide.
You don't have to be a new mum – these goodies are pretty perfect for anyone who likes smelling nice, eats chocolate and thinks babies are cute. Very niche ;). They sell a whole range of other boxes too, for all the other awkward gift recipients in your life – all equally lovely, and a little bit too covetable. (The Box for a Tiny is almost making me broody!)
Enter via the rafflecopter pane, and head over to Instagram for an alternative way to enter. Winner will be picked at random in a week and announced here on this post. Good luck!
Congratulations to the winner – your name is in the rafflecopter window below: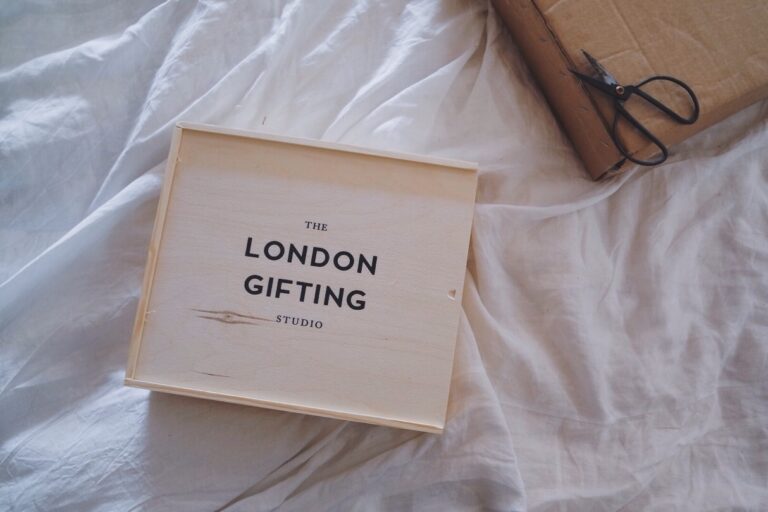 Have you ever felt lost in your own life? Mamas, was your experience similar, or different to mine? Any advice for other expectant parents?
This post is in collaboration with the London Gifting Studio. All views my own!
Every month, I gather up a selection of winning hashtags and send them straight to your inbox, for free.
Sign up to receive my newsletters every month.