ONE: Everything seems frantic & frenetic right now – my to-do list is out of hand and my inbox overflowing, despite having an assistant now to help me out (FANCY, right? ??). While that all sounds theoretically great, it's a little overwhelming, so I'm taking stock, reassessing and changing what I say yes to for the future. That might be my very favourite thing about this strange new-media world I find myself in; when something doesn't fit, I get to reinvent my job all over again. I count myself incredibly lucky for it.
TWO: A few days in London this month for meetings, including wine & pasta with Freya, & scheming & dreaming with wedding dress designer, Charlotte. I am so so excited about what we're creating together… August cannot come quickly enough!
THREE: This little spud turned three this month, a day spent quietly with balloons, presents and birthday biscuits (instead of cake!). It can't possibly be true, but somehow it seems like she grew up overnight with this anniversary; suddenly she talks non-stop, asks what I'm thinking, rolls her eyes and calls us 'Mum' and 'Dad'. She can ride a bike and I grew her with my body, and these two things combined never fail to amaze me.
FOUR: I joined Landrover's #Hibernot project this month in sharing my winter photography tips for making the most of the precious daylight hours. Whilst filming, I discovered my face goes weird and numb when you point a camera at it, and that I sound entirely different to how I do inside my head. Who knew? Catch the full video here.
FIVE: I've been in an uninspired & uncreative lull since Christmastime, but it feels like that's finally passing at last. I pulled James Melia away from his lovely wife for an hour to show me their secret pine forest and take some fairytale snaps, & I've got some fresh creative content planned for the next few weeks. At last! Honestly, doesn't my summary of this month just say it all? Zzzz fest. Are you still awake?
In my sidebar this month:
* The Future Kept, with this lip & cheek stain that I almost definitely need. Anything dual-purpose & geranium-scented gets my vote.
* Wildflower Illustration Co and a little bit of Mr Darcy – because who doesn't need a little Darcy now & then?
* Object Style, and this rose leather clutch bag which OMG I need. Like, I know I rarely go out any more and there's not even anywhere fancy within a 20 mile radius, but I'm still pretty sure I need it.
* I already have this Above – Skymap wall print from No67 – just need the framer's to re-open after the floods so I can get it up!
* I'm excited to get one of Nikki Stark's Holly wishbone 9ct rose gold rings – I had a similar (inferior) one off etsy that I need to replace for my stack, asap!
Win a 3-month sidebar ad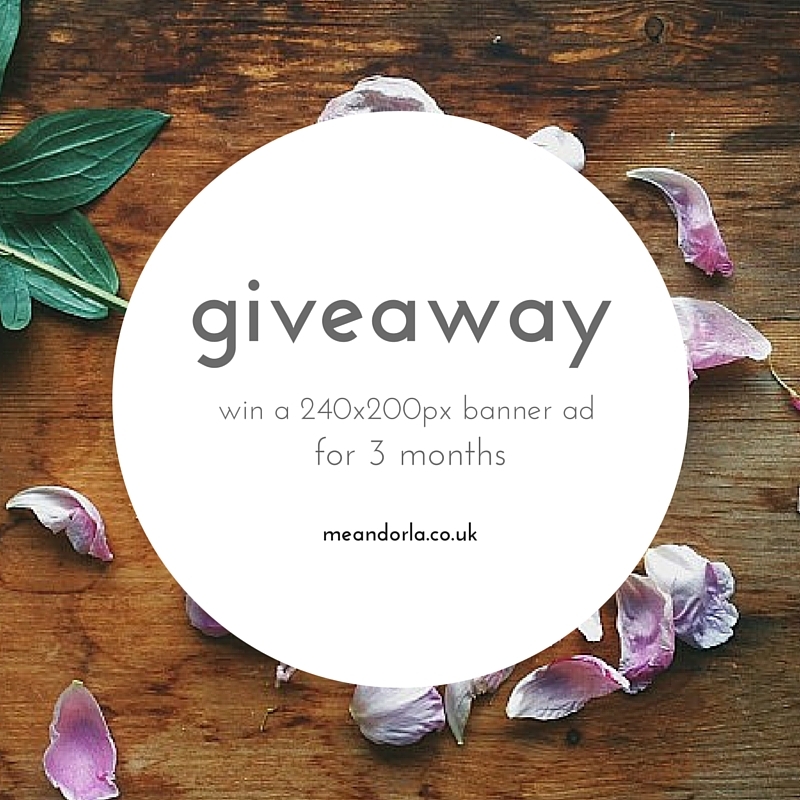 Want to be in my sidebar too? This week I'm giving away a 3-month 'medium' slot, worth $125 for free! You can advertise anything you like – your blog, Instagram, shop, or business – as long as it's clean, appropriate & right for the Me & Orla readership (i.e. I'm reserving the right to say no to porn or anyone selling pet spiders).
---
---
TO ENTER:
Visit any of my sidebar sponsors, right, then come back & leave a comment on this post saying what you liked. That's it!
You can enter once for each ad, if you like, and I'll pick a winner in 1 week & announce it here. Good luck!
Giveaway now closed. Congrarulations to Maria Fynsk Norup whose name was chosen at random. Thanks for all the entires. I run ad space givieaways periodically, so check back soon for another chance!
Hope you've had a glorious February. Bring on the March spring sunshine!
Every month, I gather up a selection of winning hashtags and send them straight to your inbox, for free.
Sign up to receive my newsletters every month.