If ever a blog post needed surround-scent technology, it is this one. Lily pollen on the breeze, roses as your feet, clusters of late, forced hyacinths stacked higher than I can reach.
Sadly, technology continues to let us down in the ifragrance dept, but fortunately these photographs by Polly of Little Kin are surely the next best thing.
On a sunny day, the flower markets on London's Columbia Road are everything you could want from the capital. A rainbow of flower stalls, hemmed in by vintage shops, cafes and bars. Crowds and street musicians on every corner, and stereotypical London market traders calling out strings of flower-selling code: 'twoforapound' and 'cheap enough for the mother in law'.
A sea of pink peonies; a young girl selling her homebaked fairy cakes down a quiet alley; and the whole time, Polly, chatty & amiable beside us, capturing the whole thing.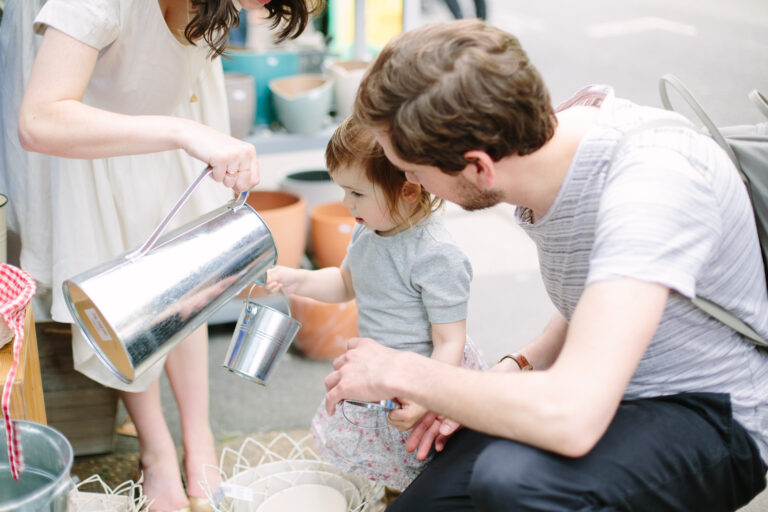 Somewhere in the midst of this shoot, my face suddenly went a bit numb from camera-shyness. It's not something I usually feel, but I think as I get older and more self-aware, it's creeping in. I was all ready to reach for the emergency gin and confessed to Polly, who soon had me laughing it off, and back to enjoying the shoot, regardless.
Stage-fright aside, it's really a huge treat to be photographed by a pro photographer – not least because always being stuck behind the camera means I'm usually absent from our family snaps. But what I really love is watching people's individual tricks and style – it fascinates me that, while I chose backdrops like the vines above for us myself, the results are still so unmistakably Polly's gorgeous style.
My outfit: details here. Necklace: WSAKE | Orla's outfit: c/o Christina Rohde. Boots c/o Boden.
The Columbia Road Flower Market runs every Sunday from 8am till 3pm, in East London.
Little Kin offer photography sessions throughout London and the surrounding area, including family, newborn & maternity shoots.
You can see the other half of our photoshoot with Polly here, and more London adventures here.
How do you feel in front of the camera lens? Are you confident, or a fellow sufferer of the face-numbness? Would you be confident shooting in such a public place?
PS – there's just ONE DAY left to enter my Stickerstack stationery giveaway. A big pile of lovely notebooks! Click here!
Every month, I gather up a selection of winning hashtags and send them straight to your inbox, for free.
Sign up to receive my newsletters every month.