---
I'm not a beauty-haul kind of girl.
My eyeliner is always wonky, my hair never looks like the YouTube girls. For a long time I thought this was because I lacked some essential talent, but I've since come to terms with the fact that I just don't care. Not enough to spend twenty-five minutes on my hair each morning. Not enough to wipe the eyeliner off & start again.
Plus, I'm a minimalist at heart, and get no pleasure from a bathroom cabinet stocked full of products. I just want things that make me a bit prettier; stuff that does what it says. Beauty products that actually work. In my experience, these are surprisingly hard to find, so when I eventually do, I remain fiercely loyal to them to the end of time.
Here is my list of beloveds.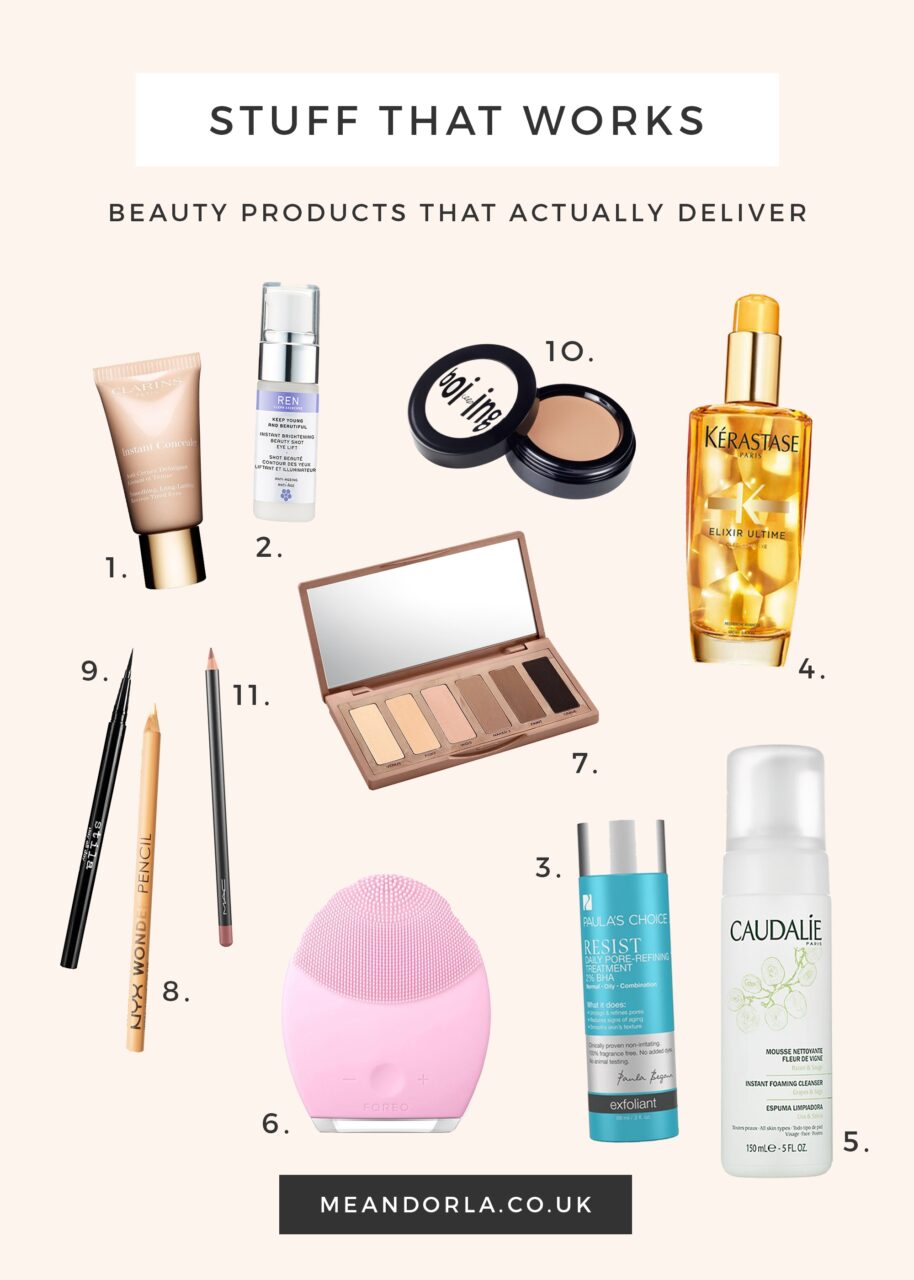 1. Clarins instant concealer (for under eyes). (£22) I love this so much I actually own two tubes, because WHAT IF happens to the first?! Better than all the big names I've tried before, this concealer is literally the difference between people saying 'oh, you look so tired!' and 'you're looking well! have you been away?'
2. REN 'Keep Young and Beautiful' Instant Brightening Beauty Shot Eye Lift. On lazy days when I don't want to wear the above, or for times when I want to look extra awake, this stuff is genius. It provides a temporary lift and lightening, with a tightening you can actually feel.
3. Paula's Choice Resist Daily Pore-Refining Treatment 2% BHA. (£21.25) This is the product that prompted me to write this list, tbh – it's been a total game changer for my skin! Within days of starting to use it there was a visible difference, and my skin is clearer, brighter and happier than it's been in years. Considering it's a chemical exfoliant, it's ridiculously mild and gentle on sensitive skin. The only downside tbh is the extra time it takes up. Not to apply – I literally just splash it onto my face at night – but in the resulting minutes spent admiring the transformation in the mirror.
4. Kerastase elixir ultime hair oil. (£29, or £54 for two) I've been using this for a few years now, and still notice and love the difference it makes to my hair. Soft, silky, shiny, and not remotely heavy or greasy like other hair oils.
5. Caudalie Instant Foaming Cleanser (£15, or £22 for two). Keeps my sensitive skin clear and happy, pleasant to use and the double pack makes it good value for money. They also do a little travel size which I keep for London trips and overnights, because I'm lost without it.
6. Foreo Luna. (£149) Last time I wrote about my love/hate relationship with my Luna Mini, as the units kept breaking on me within weeks. Eventually I contacted Foreo who kindly sent me the full-size version, which is noticeably better quality, & I've used without problems for the last six months or so. It's a pleasant part of my bedtime ritual combined with the cleanser above, and makes my skin feel clean and soft, plus a full charge lasts months at a time. I'm still not convinced that the 'sonic pulses' have any wonder-magic (if vibration is the secret to anti-aging, do we all have wonderfully youthful genitals? ?), but I can't really argue with the results.
7. Urban Decay Naked Basics eyeshadow palette. (£23) I suspect everyone already owns and loves this, but it seemed remiss to leave it off. The only eyeshadows own – I threw everything else out after I got this.
8. Stila Stay All Day Waterproof Liquid Eye Liner. (£14.50) I've been on the hunt for a decent all-day eyeliner for years since Benefit changed their BadGal liquid liner, and finally this is it. It isn't actually all that waterproof, but it lasts all day, has a brilliant depth of pigment and doesn't flake or smudge with my eye-rubbing. I'm on my second, and pray it'll never be discontinued or changed!
9. NYX Wonder Pencil. (£4) A total bargain, & good for concealing and correcting little imperfections that you want to hide. I use it to line outside my lips too, which was a revelation, and to touch up my concealer without having to crack out the big guns. Mostly it's just a useful little pencil to have in my handbag for emergency face moments.
10. Benefit boi-ing concealer. (£17.50) This was an emergency purchase a while back, and I stupidly settled for the medium because they were all out of light. As a result, it's a little too dark for my winter skin (& I really need to get around to replacing it), but now that summer's come around I'm remembering how brilliant it is again. Dense, creamy and light, it's the only one I've tried that doesn't cake into dried skin and make blemishes look worse.
11. Mac lip pencil in Dervish (£12.50). The HOLY GRAIL of lip liners, this matches my lip colour exactly so is perfect for lining, shaping & overdrawing without being obvious. I tried every makeup counter in the world looking for such a thing, to no avail. When I finally asked at MAC, the girl said 'Dervish!' right away, insisting it's invisible on nearly everyone (Im assuming that's a caucasian everyone), and she was right about me!
---
A couple of other things I want to add:
1. You don't need any of this stuff to be beautiful. The kind of beauty that is achieved through products is a bullshit social construct and nothing to do with true human gorgeousness. But I've internalised it, so this stuff still makes me feel nice – you can read more of my rants thoughts on this subject here and here.
2. Everything featured – with the exception of the Luna – was bought by me. Nothing sponsored, just my honest opinions. Some of the links above are affiliate links, which means I get paid a small commission if lots of people click.
3. This list is an update to this post, from last year.
---
What are the beauty products that actually delivered for you? & what disappointed? Share below – I always want to know!
Every month, I gather up a selection of winning hashtags and send them straight to your inbox, for free.
Sign up to receive my newsletters every month.