I always mean to do such a lot, at Christmas. Back before I had a child & a business & a napping addiction, I did used to do a lot. Handmade cards, gingerbread palaces, whole-house decorations.
Now, it feels like a tremendous achievement just to string some lights on a tree.
And I'm all for simplicity, really. In some respects, I like that the increased fullness of life has meant we reconsider the essentials, and cut back on the December stress. Because, for all its loveliness, Christmas can end up feeling like a huge weight of pressure; posting deadlines and Pinterest inspo boards conspire to make us feel like we're in the Festive Olympics, and our hopes for gold depend on the colour of our giftwrap.
It feels nice to opt out of competing for a while.
What's left then, is just the stuff that matters. A real tree from a local farm. A plate of homemade mince pies; a pan of simmering mulled cider. And, high up on my personal list – wreaths. Simple circles of evergreen, symbolising eternity, rebirth, the promise of spring. Scents of bay and rosemary and pine staining my fingers for days. A quiet ritual in a hectic month.
It feels silly to share a tutorial for something so simple, but perhaps like me you're someone who wouldn't have expected them to be so easy. In case that's you, here are three super-simple, totally free ideas you can make today from foraged finds. And if Christmas has already passed when you read this, then who really minds? I keep these up through the year, weaving in summer flowers as the seasons turn.
The only thing you need that isn't free is some floristry wire, and a pair of scissors. (If you don't have floristry wire, string, thread or even the twist ties that come with food bags will work!)
super super simple
Make the twig base, following my earlier instructions here.
Once you've made these you can re-use them again and again. This time I added a few long vines from our Virginia Creeper to give my old base some fresh strength – and I kind of love that these are woven with layers of the seasons and years we've spent living here.
Gather your greens. I found some super pretty myrtle with dark blue berries, as well as some bay and laurel.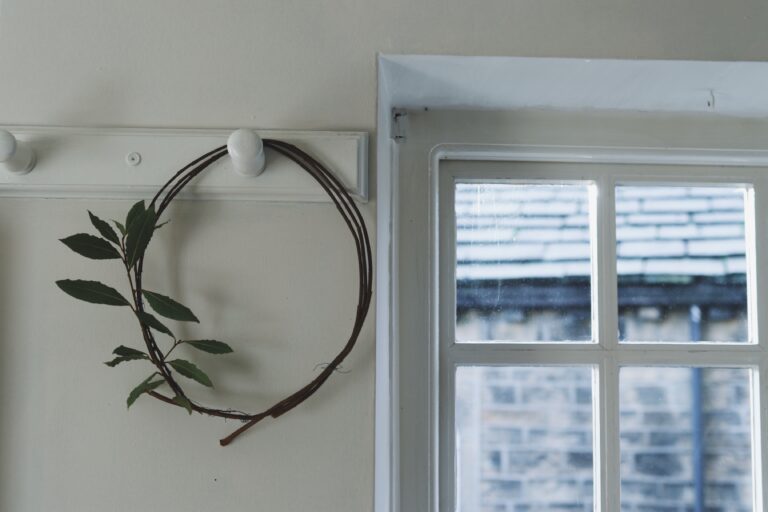 Weave them in. I have no system or rules; just try a strand by holding it against your wreath, and it if works, weave it in. Most of the time I can secure the greenery just by tucking it into the twists of the base, but where it needs a little extra support just add a twist of wire, making sure not to trap and crush any leaves underneath. Keep your sprigs all 'growing' in the same direction, unless you're making a design feature of doing otherwise.
& that's literally it! Make them big, small, simple, elaborate. Obviously you can add greenery the whole way around, but I tend to prefer them just partially covered, in the name of simplicity. I did consider adding a candle to the large one, but in the end decided it was too much of a fire risk and stuck to the basics ?.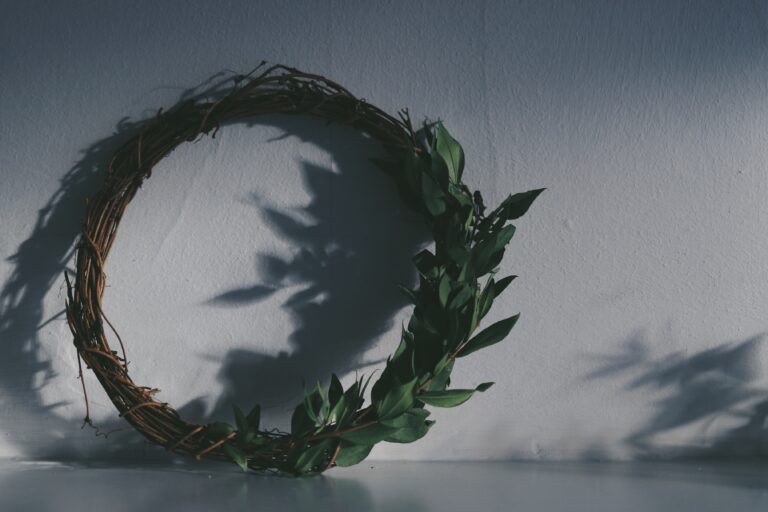 & in case you need any further convincing, here's me making three wreaths in 20 seconds! Kind of…?
Wreath making from Sara Tasker on Vimeo.
I had the best of intentions for my Christmas content here on the blog – my gift guide was shaping up to be awesome, and my mince pie recipe deserves to be shared with the world. But just like the real-world rituals, something had to give, and they'll have to wait till next year – or perhaps until the January sales?
Sending lots of love and wishes for the happiest of Christmases to you all.
S x
Every month, I gather up a selection of winning hashtags and send them straight to your inbox, for free.
Sign up to receive my newsletters every month.