Beauty blogger I am not, but in my small-ish rant about the 'natural beauty' myth, I promised to share the handful of products I do use and enjoy.
On the whole, I find the effectiveness standard of most mainstream beauty products depressingly low – a fact supported by the cosmetic companies resorting to photoshop in order to pretend their products even vaguely work in ads. In my younger days I would spend hours comparing reviews & beauty blogs to find the best of the best, but these days my time is too stretched. I just need stuff to work.
So before I alienate the entire beauty industry, and a swathe of potential sponsors, let's move to the positive side of things.
Stuff that actually works.
1. Kerastase elixir ultime – it seems reasonable to require any impact a product makes to be noticable to the people around you, no? This ticks that box – The week I first started using this I received numerous comments from different people, with one even using the words'fairytale hair'. It smells nice, it feels nice, but most of all it does a wonderful silky-shiny disappearing act on your hair – even fine, clumpy hair like mine – turning it into something a bit more like the hair you always imagined growing up to possess. It's on the pricey side, but don't be put off; a bottle lasts me months at a time, and the cheaper imitations just do not compare. In fact, whenever hairdressers try to flog me their products in salons now, I simply say, 'I use the Kerastase range' and they instantly shut up.
My only note of cynicism is in regards to their suggestion to also use it as a mask before washing your hair – surely akin to recommending you rinsing your drinking glasses with champagne. It's expensive – save it for your finished hair.
2. Charlotte Tilbury 'Lip Cheat' lip liner in Iconic Nude – pictured here but currently LOST, in a shakesperian-style tradgedy I'm considering adapting for stage. This lovely pencil looks natural, feels luxurious & smooth, is thick enough to allow a bit of creativity with your natural lipline. It lasts ok, like any other lipliner I've ever tried; I wear it with a smudge of cherry chapstick to blend it in, which probably doesn't help.
It wont change your life, but it will give you nice-looking lips for a coffee or a scary meeting, before it starts to wear off.
3. OSKIA Renaissance Mask – As with no. 1, this has an actual noticeable impact; I'm convinced just one application took about two years off my face – specifically, the last 2 years of sleeplessness, stress and general mayhem of parenthood.
LOOK AT MY FACE, I said to R, DOES IT LOOK DIFFERENT? He looked faintly terrified, but after I explained about the lovely rosey renaissance mask he did admit my skin looked 'all glowy', which I'm pretty sure means 2 year younger. My plan is to apply it daily until I look 5 years old again, then ask someone responsible to come over and do all the hard stuff while me & Orla play.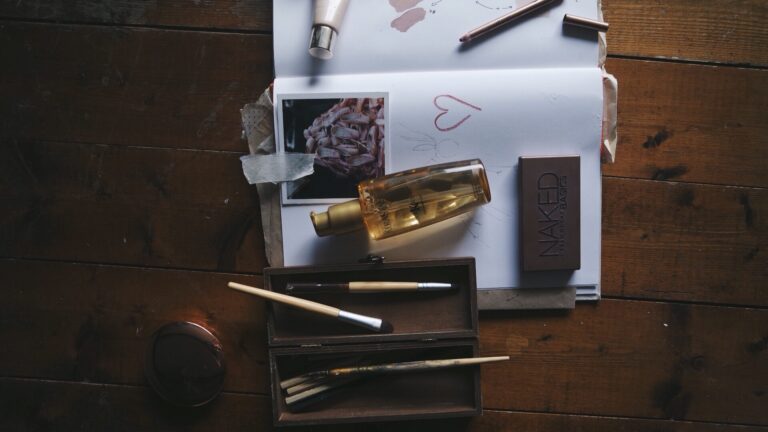 4. Urban Decay Naked Basics palette – I wont bore you with this, because surely everyone knows what this is by now, & possibly already has it. Suffice to say, I use all the shades for different looks, it lasts ages and has allowed me to throw away all other eyeshadow products I previously owned. If only it had a little space for a brush like the bigger palettes, I'd declare it complete perfection.
5. Clarins Instant Concealer.
I bought this based on a Sali Hughes recommendation, & I'm so glad I did. Previously I'd depended on touche éclat for years, assuming it was somehow my fault that it never really gave me the under-eye coverage I was looking for. The clarins stuff is a revelation, & I want all my wasted YSL money back.
5. Foreo Luna Mini – I'm sort of reluctant to include this, because Foreo have been a bit crap to me; my first device turned faulty then burnt out, & customer services were all kinds of unhelpful about repairing or replacing it under warranty. Then my new device developed a similar fault – namely, turning itself on at random & inopportune moments, and refusing to turn back off. Trust me when I say there are times you simply do not want the pink bumpy-looking silicone thing in your washbag to start vibrating – on nights where you're staying with friends for example, and have to shut it outside your bedroom door so it doesn't wake your toddler, with a note explaining that it really is not a sex toy.
Yet I'm including here because, alas, it does a pretty great job. I wash my face with it morning & night, using a cheap foaming face wash, & it keeps my skin clear & plump & happy. For a while I suspected the effect was purely down to all this dedicated face washing, when previously I would just swipe with cleanser before bed, but the time waiting for my replacement device proved this wasn't the case. I even tried using it just like a face brush, sans vibration, & I'm now convinced the supersonic vibration really does do something nice for my skin.
So I'm sort of recommending it, but also hoping Foreo will read this and get their act together. My actual vibrator never gives me this kind of crap! 😉
What are your all time beauty faves? Let me know if you've found some other stuff that works!
Every month, I gather up a selection of winning hashtags and send them straight to your inbox, for free.
Sign up to receive my newsletters every month.