This cake has been in gradual evolution in my kitchen for years. It's based on those middle eastern cakes that are drenched with sticky-sweet sugar syrup right after baking, while everything is still warm. I serve it with rosewater & yoghurt crème, which contrasts the sweetness nicely & smells almost as good as it tastes!
Ingredients:
150g unsalted pistachios, shelled & ground to a soft green powder

100g ground almonds

1 tbsp rosewater

200g semolina

1¼ tsp baking powder

¼ tsp salt

300g butter, at room temp

325g caster sugar

4 eggs at room temp, lightly beaten

1 unwaxed lemon, zest plus 1 tbsp juice

100g full fat Greek yoghurt

½ tsp vanilla paste
Plus:
For the Syrup:

120ml lemon juice

1-2 tbsp rosewater

120g caster sugar
For the Rose Crème:
400g Greek yogurt
1 tbsp icing sugar
1 tbsp rose water
Pink food colouring (optional)
Whisk the butter & sugar together until light & fluffy. Gradually add the egg a little at a time until smooth, then stir in the yoghurt, Rosewater, lemon and vanilla paste.
Stir in the dry ingredients until just combined, then transfer to a baking tin (I use a 23cm springform).
Bake at 170c for around 50-60 minutes.
Meanwhile, heat the syrup ingredients together in a small pan until all the sugar is dissolved.
When the cake is cooked, quickly pour over hot syrup, making small holes with a skewer if necessary to help it absorb. Leave to cool in the tin.
Mix together the ingredients for the rose crème and whisk lightly to add volume. Keep in the fridge until ready to use, then serve on the side. Sprinkle with extra ground pistachios before serving.
The cake keeps for at least a week in an airtight tin, & actually improves a little with a few days spent sitting. If you can bear to wait!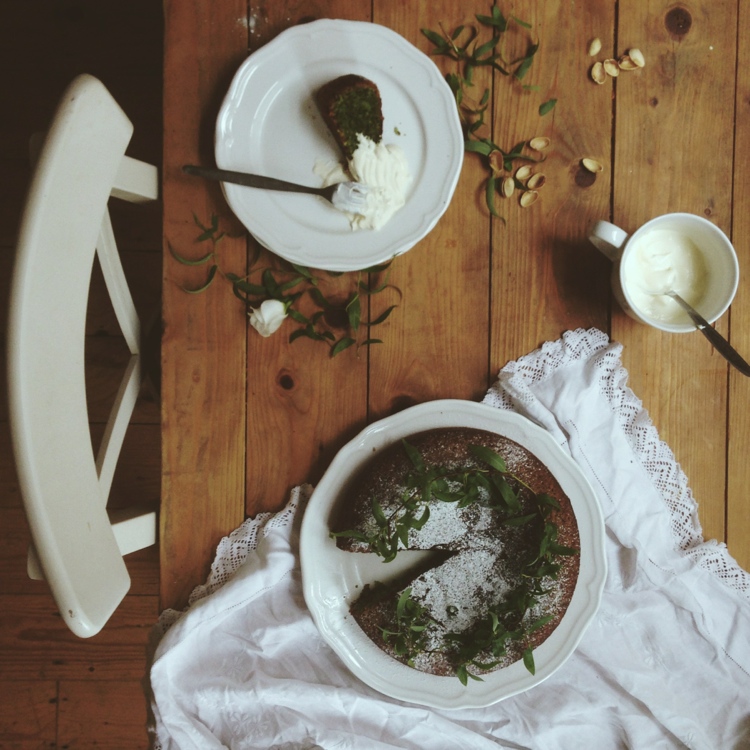 Pro tips:
Once in a pinch I used strawberry yoghurt in place of Greek, & it was kind of awesome!
Rosewater seems to come in a variety of strengths, & the labels give you very little help identifying what you're buying. Use the quantities above as a guide but adjust to taste and fragrance. In this recipe, I use a heavily scented rosewater that can be bought from UK Supermarkets in small brown glass bottles.
Adding pink colouring to the crème somehow makes it taste more 'rosy', and looks super pretty next to the pistachio-green sponge.
Happy baking!
I'm sharing this recipe at part of the UK yoghurt council's #yoghurtstylist competition. Head over to their instagram for details of how to enter!
Edited with BlogPad Pro
Every month, I gather up a selection of winning hashtags and send them straight to your inbox, for free.
Sign up to receive my newsletters every month.