Two weeks ago, I was in Paris.
Paris is, obviously, the best; if you've never been, all I can say is that it really is exactly how you imagine it to be. The only alternate life I ever mourn for is one where I pay attention in high school french, overcome all that prohibitive anxiety and move to Paris at the age of 18.
When we visit, I like to play pretend that this really is the life I chose, handily concluding with me still meeting Rory and having Orla all the same. I like to enjoy Paris like a local – 7am coffee in shabby-looking bakeries, buying a paper sack full of sweet-scented figs at a local market.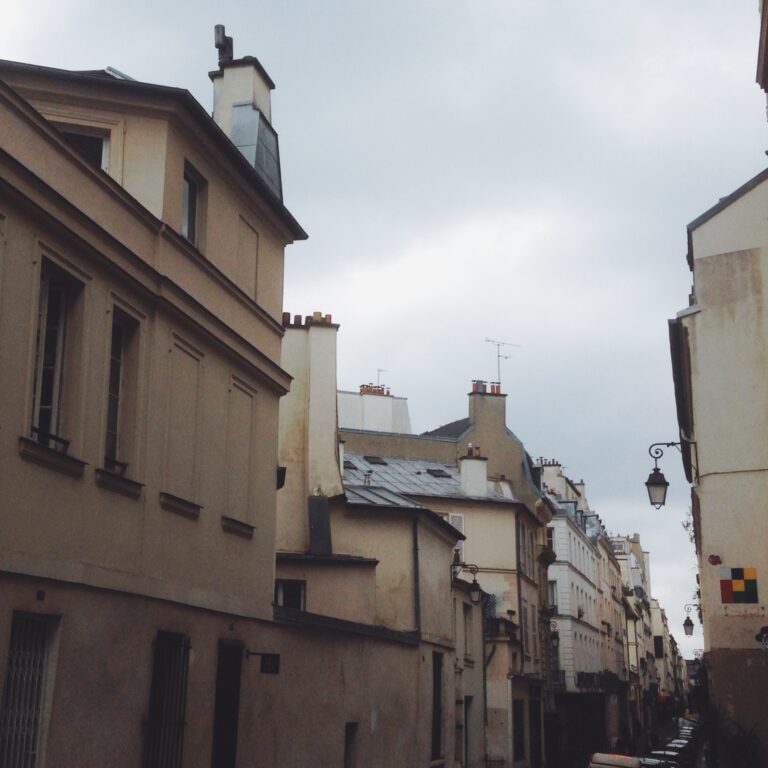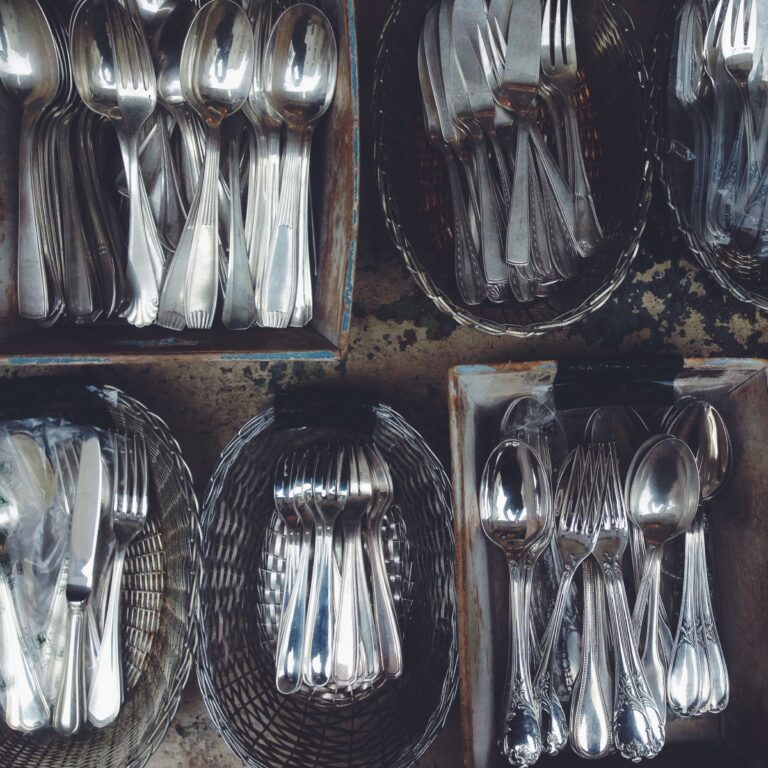 This time, my instagram friend Cécile messaged to say she was in Paris for the day, and so we arranged to meet for coffee. She suggested we could go to her place, and the lure of fresh toys for Orla & the chance to peek inside a real-life Parisian apartment was just too good to demure.
It also presented me with the perfect excuse to live out a little Paris daydream; I stopped by a small local florist & bought a bunch of soft white tulips, wrapped simply in brown paper & twine. It was a sunny spring day, & as I slipped the bouquet into my tres chic new Anna Walker leather tote, I felt a tiny bit like I was living that second-life dream.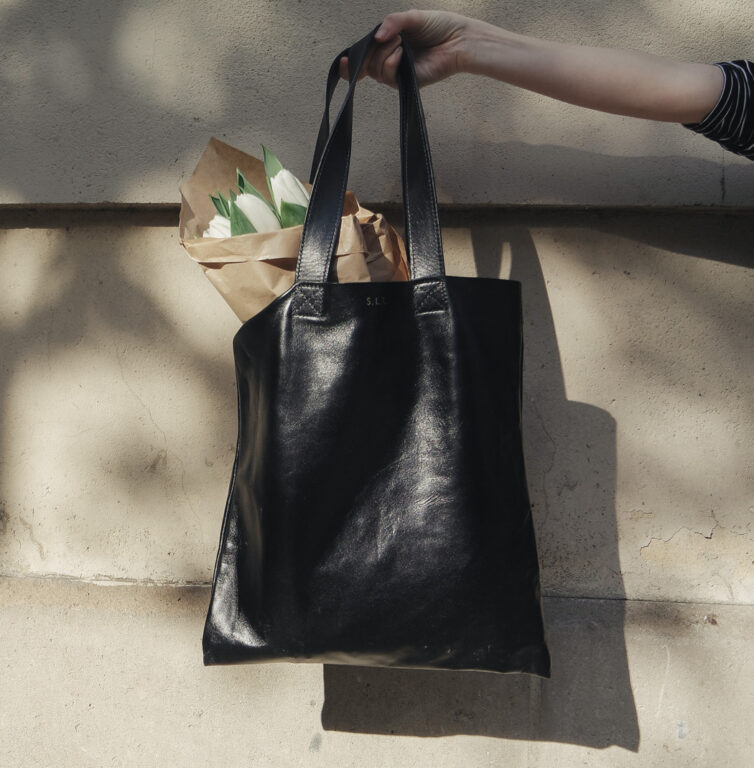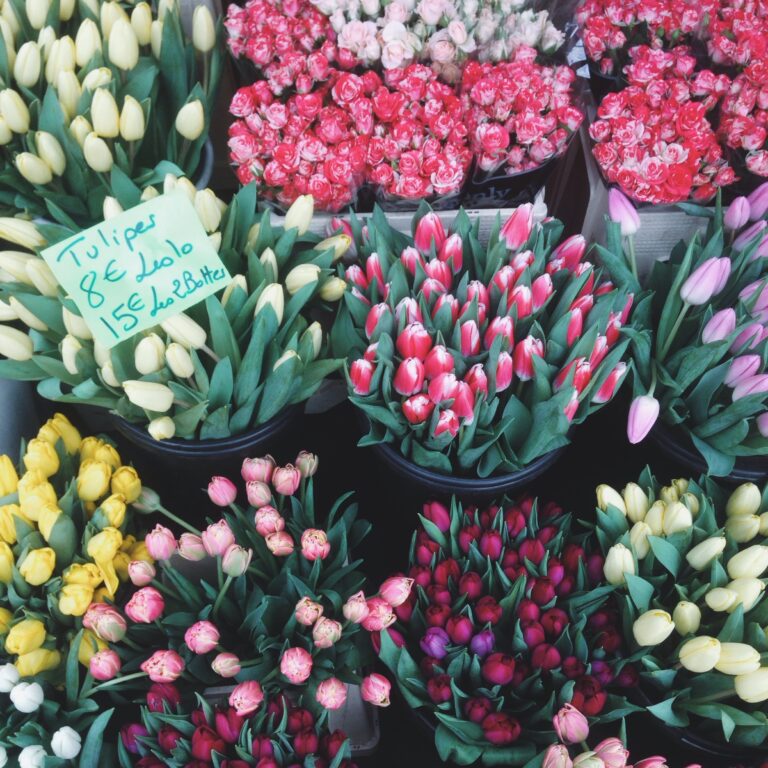 As we walked past the university, in an arrondisment we'd never previously explored, I said to Rory – this is my idea of adventure. I knew Cécile and I would get along, in that inexplicable way you can just know from somebody's instagram images, but beyond that we had no idea what to expect.
In her directions, she described her building as modern, and we push in through smoky 70s glass doors. At the top of the stairs she opens a blank white door and greets us, smiling. She scoops Orla into her arms; behind her, an expanse of white space, wood and twinkling fairy lights beckons. Cécile's apartment is a dream.
Normally wary and clingy in new places, Orla set off at a run to investigate C's children's gorgeous bedrooms; Jielde lamps, wooden toys, liberty fabrics. I interpret this as evidence that my daughter is clearly at home amongst good interior design and has inherited my excellent taste ;).
But truly, she's just so delighted amongst C's brood, all charming, friendly and laughing. Eglantine, her youngest, had Orla enchanted with her dolls and her long, pretty hair. Orla calls all children 'bunnies', an early mistake that we've let her continue, and so these new friends must surely be petite lapins.
C's wide, bright kitchen, overlooks her magical green terrace garden, where surprising city birds flutter in the trees. She brews Earl Grey tea and we eat delicate, perfect macarons – pistachio, earl grey, vanilla. She's been learning to make wreathes with a florist in the city, and shares with me the techniques and results from her day. We talk about parenting, about the difficulties and joys. We talk about Paris. We talk about Instagram.
She invites us to stay for a quick dinner before she and the children head out to the countryside; I'm normally so shy and scared of intruding, but I can't help saying yes.
One of the boys orders pizza and 10 minutes later it arrives. It is SO GOOD, thin & crispy, piled with salted ham – the kind of takeout you can never ever find in the UK, much less spontaneously on a random Tuesday night. C casually tosses a salad and mixes a dressing while we talk, quintessentially French and natural and lovely. The fairy lights twinkle. The children laugh.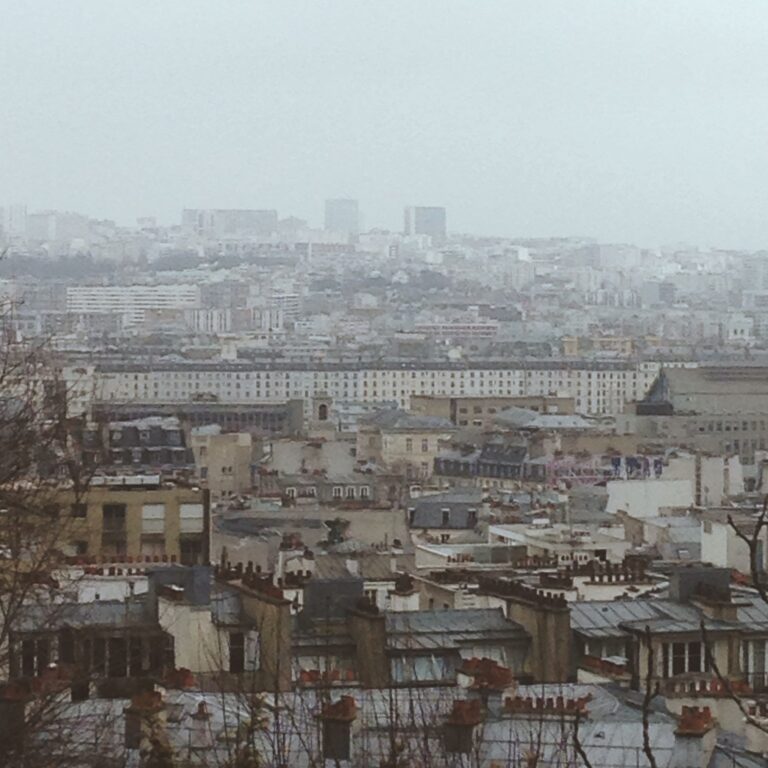 It's such a cliche to say French women are stylish, like Parisians automatically just have it all figured out, but I confess that my lasting impression of Cécile is exactly that.
I imagine the reverse; a new friend dropping in on my home, at short notice, and wince at the thought of the laundry piles, cat hair and unfinished decorating they'd be greeted by. Cécile manages her four children with more grace and ease than I can muster for my one. She inspires me in a million different ways.
Before we left, she shared a few suggestions for spots she thought I would like in Paris, and I've included them below. We only made it to a couple on this trip, but she was completely right about me loving them, so I'll happily guarantee they will all be awesome.
Some of Cécile's Paris recommendations:
La maison de Victor Hugo located 6, place des Vosges 4th arrondissement. Small museum where the french writer, poet lived. (It will be closed for works at the end of March).
Merci, a concept store founded by the founders of Bonpoint the luxury brand for children clothes, Marie-France Cohen and her husband. Non profit store, all the benefits go to non profit organizations.
You can find everything there, vintage book shop, coffee, restaurant, selected clothes of fashion designers and of their brand Merci merci, kitchenware, furniture, design and vintage and their wonderful linens in washed linen: sheets, pillow cases, napkins, aprons… Located 111, Boulevard Beaumarchais 11th.
Musee Delacroix – another small museum which also was the artist Eugène Delacroix' house and studio: Located 6, rue de Furstemberg 6th arrondissement.
Small and intimate museum with a lovely garden in the heart of the 6th and located on one of the loveliest yards in Paris, Place de Furstemberg.
In front of this museum, you have "La maison du Choux", delicious puff pastries filled on demand!
You can follow Cécile over on Instagram for more of her wonderful Parisian life!
Every month, I gather up a selection of winning hashtags and send them straight to your inbox, for free.
Sign up to receive my newsletters every month.