The beginning of a little series, chatting to creative & talented people, with skills I envy & admire. First up is Anna from WSAKE jewellery.
I discovered WSAKE via Pinterest several years ago, and have followed their work ever since. I don't wear a lot of jewellery, often finding it too fussy, or perhaps being too fussy myself – but the clean lines and organic themes here are everything I love. I wear my bluebell necklace, above, most days now.
I was curious to know more about the team behind such special designs…
Tell us a bit about yourselves
We´re a father-daughter-team designing hand made jewellery and objects in our workshop in a small Bavarian town called Regensburg.
How did WSAKE come about?
My father has worked as a silversmith for over 50 years now and even though I have always liked to work at his place I thought at first following his footsteps would be a too easy choice, so studied graphic design instead. But almost right after finishing my studies i returned to the workshop anyway and we have been working together ever since.
How does sharing the creative process work with your father? Do each bring different things to the work?
He´s a master of his trade and knows how everything is done so he provides a perfect technical background – I on the other hand like to try out some unusual approaches and to introduce modern techniques to our work process. Our aesthetics however are rather similar so we rarely work on something the other one doesn´t agree on. We both like to go the very straight and clean route one day and the more playful, fun or organic one the other.
Tell us about the materials you use.
We use mostly brass and silver, a bit of gold and antique stones or beads.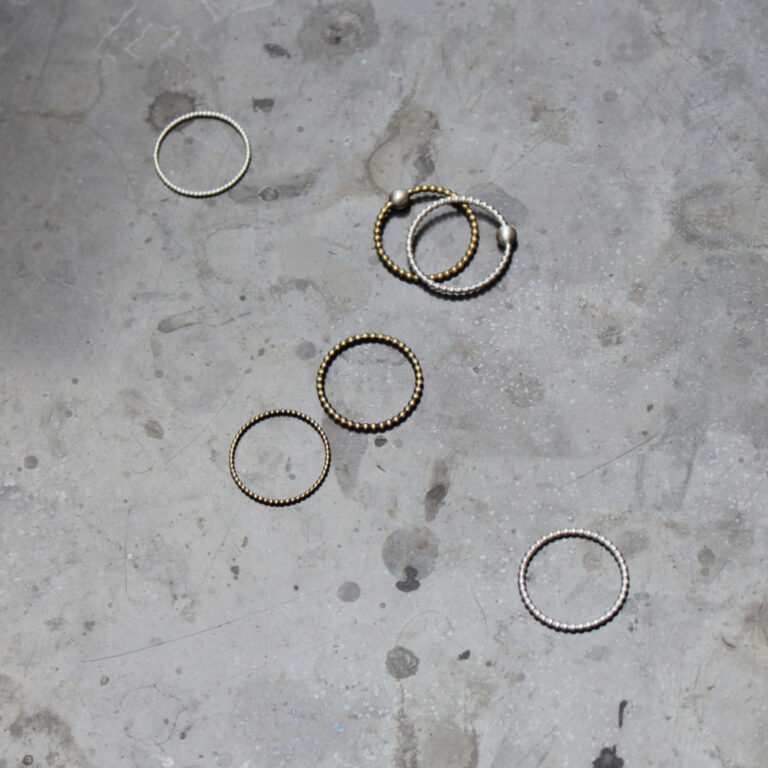 What does a typical day look like for you?
There´s quite some time spent on the computer writing mails, doing admin, working on sketches, editing pictures and so on, so I very likely start and end my day this way. Then there´s the time in the workshop – working on prototypes, new collections, orders (almost everything is made to order and according to your size) and assignments. that´s the part of our work i like the most. Depending on where we are at the developing process there´s also a lot of picture taking, scribbling and discussion involved – we shoot almost all of our lookbooks ourselves, since we feel by the time a piece is finished we know exactly how it wants to be presented.
What inspires you?
Actually everything – I really can´t narrow it down. A lot of inspiration comes from nature itself, leaves, pebbles, structures, light… but we also like to see what happens right when we work on something – how some material reacts when treated a certain way, how it looks when it´s worn. Our developing process is rather open – the starting point is rarely similar to what we end up with. Also, I like to browse through my fathers archives, dig something out and recreate it. And we´re really into antiques, like big time… all kinds, I´m told i have shocking taste…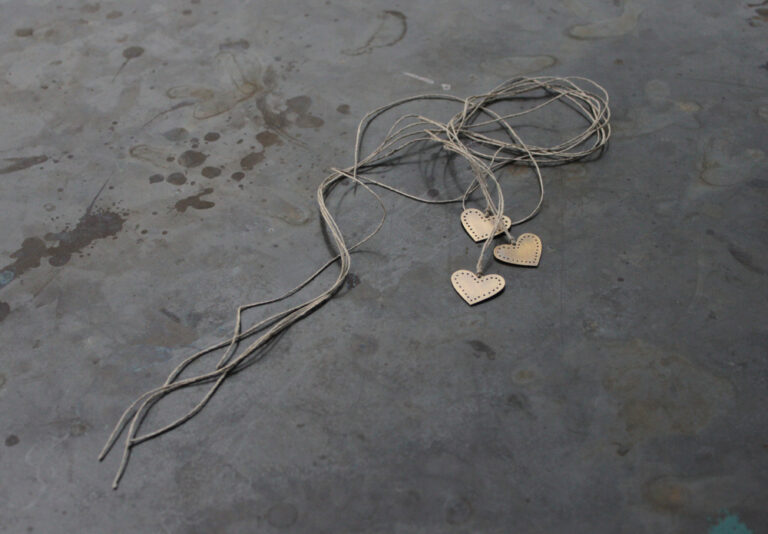 What do you do to relax?
My father plays the trumpet in a few dixieland jazz bands and likes to listen to a lot of music. At the end of the day i like to just relax, mostly accompanied by my cat, reading or watching a movie, cooking or go out for a meal. But I have to admit being self employed and doing something you love so much, it´s really hard to take time off and not think about it all the time – definitely an issue I have to work on!
Follow Anna's beautiful, understated instagram account here and browse the beautiful new WSAKE lookbook here.
Does anyone have any questions for Anna and her father? What do you think of their designs?
Every month, I gather up a selection of winning hashtags and send them straight to your inbox, for free.
Sign up to receive my newsletters every month.