Gift guides are an overdone thing, I know.
I am confident this will be more useful though; in the midst of a breakup, I once asked an ex boyfriend what my best quality was. What would he miss about our time together? He thought carefully for a moment before triumphantly declaring, 'you buy really good presents'. Oh… thanks.
It was an insanely inappropriate answer, but I can sort of forgive him because he was technically right; I AM freaking amazing at buying presents – undoubtably because it utilises my best two talents of finding nice things online and spending lots of money.
That, plus I put so much thought into gift-giving that I keep a running list of things people might like on my phone throughout the year. Mention in passing something you need, & I'll make a surreptitious note. Tell something you like to me in March and I'll remember until December, long after you've forgotten you even wanted it. I stash so many ideas that my brother texts every December to, 'can I have your leftover present ideas for everyone please?'
So what lies below is no ordinary blogger Christmas gift guide; these are the present recommendations of a woman who makes Santa look lazy. You can trust me when I say that these are all winning gifts: it's my best quality, after all! ;).
COFFEE GRINDER / Apparently this is the best or something? It isn't white, so it's not going on our open shelves, anyway.
ROTERFADEN PLANNER / I'm slightly crazy about this German alternative to the filofax, with minimalistic insert and soft leather covers. There's even a space for your iPhone!
POCKET KNIFE* / Handy for skinning fresh kills in the wilderness / opening fresh amazon parcels at home. Whichever.
WALL CALENDAR* / Somewhere to record which days the bins go out, because I'm not doing it.
MAHABIS SLIPPERS* / I was gifted a pair, & R has not shut up about how much he loves them. In fairness, they are the warmest, comfiest and most practical slippers ever – and super chic too.
STANLEY FLASK / To put in the rucksack, below, and ferry tea around, obvs.
PUBLICLY SHAMED / One of the best books of 2015, this is compulsory reading for everyone with a wifi connection.
MIDORI PENCIL / I bought R one of these a couple of Christmases ago & it's aging beautifully. You can buy replacement pencils and erasers for it, so it can last a lifetime.
SHIP KITE / Christmas morning can be so dull for guys – socks, pants and chocolate. This adds a little childhood magic to the mix, and is kind of beautiful, no?
WAXED RUCKSACK* / If Hipster Barbie has one, then it must be cool. Perfect for Saturdays spent wandering in the wild.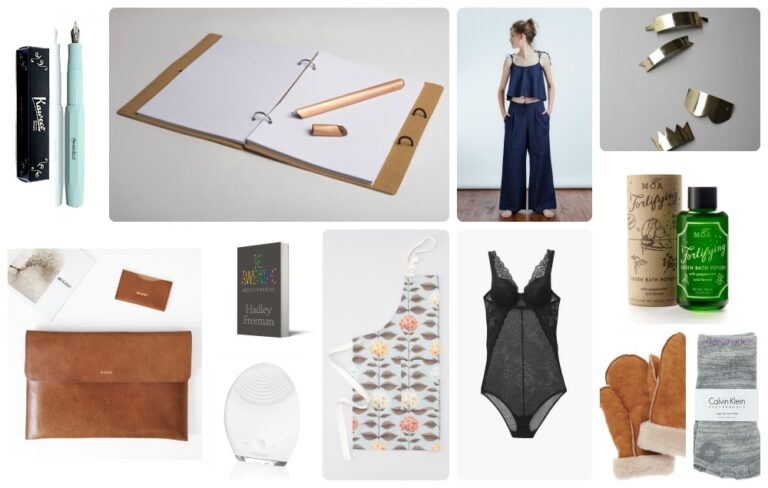 KAWECO FOUNTAIN PEN / My favourite pen, I have it in white and am never without it.
STYLOGRAPH* / It's a pen that DIGITALLY STORES WHATEVER YOU WRITE AND DRAW. Powered by witchcraft, presumably, it comes with a wonderful leather bound journal to boot.
HANDMADE PAJAMAS* / By brand Pop-lin, these easy, breezy pyjamas are made for lazy Sunday mornings in spring.
BRASS BARRETTE / Like nothing you'll find anywhere else, Anna and her father hand make their jewellery and accessories in their studio in Germany. Awesome against dark hair.
MOA BATH POTION* / Smells like the menthol steam room at my favourite spa, and just as relaxing.
YOGA SOCKS / Who knew such a thing exists? Cozy genius.
MITTENS / I used to have my Grandma's vintage pair of sheepskin mittens, and for some STUPID reason I threw them away. Nothing is as warm or as great in the snow, and I just can't do another winter without them!
LACE BODYSUIT / I've been getting into the bodysuit lately – warmer and simpler than separates, great for stopping the itchies under wooly dresses on cold days. Has the added benefit of making me feel like a silver screen goddess for those three seconds of undressing before I pull my pyjamas on at night.
APRON* / Nadinoo are now offering a select range of homewares in their unique printed fabrics. This one's a beauty.
FOREO LUNA* / This upgrade from my Luna Mini is single handedly responsible for the presentableness of my face on a daily basis. Cleanses, massages, anti-ages, and looks enough like a sex toy to make any nosy Aunts blush on Christmas morning. What's not to love?
BE AWESOME / Compulsory reading for anyone with a vagina, and many without too.
LEATHER MACBOOK SLEEVE* / beautiful, soft and understated. Could double as a clutch for those mythical women who leave the house without ALL OF THE THINGS in tow.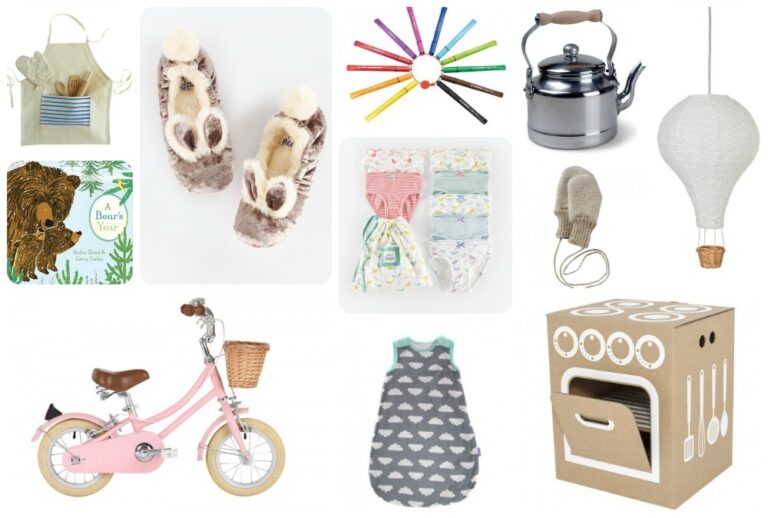 MINI APRON SET* / Because TOAST don't do linen ones in Orla's size.
BUNNY SLIPPERS* / they're so fluffy I'm gonna die.
CAPPI PENS / I've mentioned the genius of these before – washable colouring pens with the lids all strung together. Totally brilliant!
TEA KETTLE / start em young, I say.
HOT AIR BALLOON LAMP* / so beautiful it would be a shame to relegate it to a child's bedroom. I want it in our living room please!
MITTENS* / Because it's definitely going to be a white christmas. *crosses everything*
FANCY PANTS* / Anyone who has ever toilet trained a toddler knows the magic motivating power of seriously fancy pants.
CARDBOARD OVEN* / We got this for Orla last year and it's still going strong. The reverse side is a fridge, and for some reason ours cats LOVE to sleep in it, so it's really very multi-functional, no?
CLOUD SLEEPING BAG* / This is really a present for me, because Orla sleeps SO much better in a sleeping bag, and always has. This is best design by miles, with genius features like additional winter inserts, adjustable sides and clever openings in all the right places. Having been through every kind on the market, we no longer use anything else
GINGERSNAP BIKE / Orla's been asking for a pink bike since she got a white trike last Christmas, and shows no sign of relenting. I hated all the gendered, cartoon-spattered options in toy shops, but this beauty by Bobbins is a timeless classic.
A BEAR'S YEAR / Our friend Gerry illustrated this little book following a bear family though the seasons of a year, & it's a thing of beauty.
---
Disclosure: Some of the links above are affiliate links, but only where there was one available for something I was already mentioning. Items marked with a * are from companies I've worked with as sponsors, collaborators or have received something from previously as a gift, but I'm sharing them for entirely genuine reasons.
---
Tell me what you're buying this Christmas! Sensible or sentimental? & do other people still exchange gifts with their SO?
Every month, I gather up a selection of winning hashtags and send them straight to your inbox, for free.
Sign up to receive my newsletters every month.